Winning a Grand Slam is every tennis player's goal, but winning an Olympic medal has its own significance. Every athlete fantasises about competing in the Olympics and what better method to accomplish it than by earning a medal. Especially if it's a 'Gold Medal,' then the amusement knows no boundaries. Numerous players have earned a substantial number of medals at the Olympics, however, only a few have accumulated a large number of gold medals. Therefore, without further ado, let us dive right into our list of 5 Tennis Players with the Most Gold Medals in the Olympics.
#5. Laurence Doherty
Even the most devoted tennis fans would have no idea who he is, as he is a quite uncommon name to appear on this list. However, while Laurence Doherty may be despised nowadays since he played tennis when the sport was less popular, his accomplishments cannot be overlooked. Laurence "Laurie" Doherty was a former World No. 1 English tennis player and the younger brother of Reggie Doherty, whom we will discuss later in this article.
Laurence, a six-time grand slam champion, refused to be limited to the grand slams and went on to win two Olympic gold medals in singles and doubles in the 1900 Summer Olympics. In addition, he also took home a bronze medal in mixed doubles. As a result, he gathered three Olympic medals in all.
#4. Andy Murray
Andy Murray is the man who has proven to be a stumbling block in the way of the "Big 3's" reigning supreme. Also, Stanislas Wawrinka was most likely the only other player to accomplish it. However, having secured 3 grand slams to his name, Murray spread his magic in the field of the Olympics as well.
Andy Murray won his first gold medal in the men's singles event at the 2012 London Olympics. With a triumph in Rio, he added another men's singles gold medal to his arsenal. Murray and Laura Robson lost in the mixed doubles final to Victoria Azarenka and Max Mirnyi in the same Games, barely missing out on another gold. He would have most likely become the most successful male Tennis player in the Olympics if this hadn't happened. "Fate is a harsh mistress, isn't it?" we wonder at times.
Read more: top 10 richest tennis players in the world
#3. Reginald doherty
Another uncommon name in our Top 5 Tennis Players with the Most Gold Medals in Olympics List is Reginald Doherty. Reginald Doherty was a former British tennis player who competed in the Olympics with significant success. Doherty, who was born in 1872, was one of the most accomplished players to ever play on the All England Club's centre court. However, his Wimbledon performances are a perfect example of this. He won four consecutive Wimbledon singles titles (1897-1900) and was a finalist in 1901.
We're pretty sure that you've already deduced that he has something to do with Laurence Doherty, for they have a surname in common. Yes, you are right. Reginald is the brother of Laurence. Like his brother, Reginald also didn't forget to showcase his talent in the Olympics. He has a total of four medals. At the Paris Olympics, he won two gold medals and a bronze. His triumphs in the doubles and mixed doubles tournaments earned him two gold medals. However, he went on to clinch the bronze in the singles tournament, since he declined to play against his younger brother in the finals. Furthermore, we can not help but wonder if Laurence said to him after his sacrifice, "You are a brother like no other."
#2. Serena Williams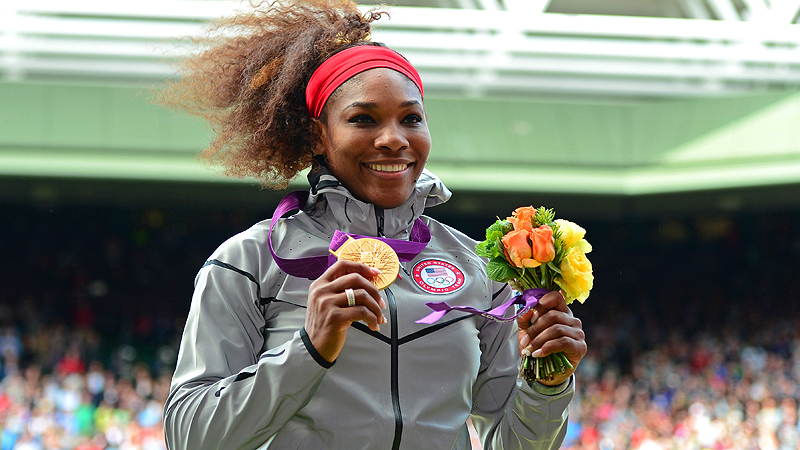 Everyone expected it, after all. We are well aware that our list would be incomplete without mentioning her. Although words are insufficient to adequately describe her achievements to date, however, we shall attempt to do so in a nutshell. Serena Williams is a four-time Olympic medalist and one of the most prominent figures in women's tennis nowadays. She won three doubles gold medals and a singles gold in her Olympic career, with a total of 23 grand slams to her credit. Venus, her older sister, is her doubles partner. Who else, after all, could it possibly be?

Serena earned Olympic gold in Sydney in 2000, Beijing in 2008, and London in 2012. She won two gold medals in the 2012 London Olympics, one is in singles and the other in doubles. She ended up earning three gold medals as a result of her efforts. Her list of accomplishments is certainly impressive, but there is one more feather that she may be able to introduce to her cap. That is winning 2 more grand slams and in the process, passing Margaret Court as the highest grand slam winner in tennis history (Both men's and women's). However, only time will tell if the 'Momma Smash' is capable of accomplishing such a feat.
Read more: Top 5 Greatest Indian Tennis Players
#1. Venus williams
Well, this brings us to the No. 1 spot holder in our list of 5 Tennis Players with the Most Gold Medals in the Olympics. Can our list be completed without the presence of Venus 'Queen V'? The answer is simple: NO!
Venus Williams is the most decorated tennis player in Olympic history, despite her career not being as illustrious as her sister's. Venus is at the top of the list with five Olympic medals, four golds and one silver. Williams was a double gold medallist in the 2000 Sydney Olympics, winning the gold medal in both the singles and doubles competitions. Williams has also won gold in doubles competitions at the Beijing and London Olympics in 2008 and 2012. Serena, her younger sister, is her doubles partner in the competitions. Also, she earned silver with Rajeev Ram in the 2016 Rio Olympics, which was her fifth medal. Well, 'The most decorated tennis player in Olympics', for some obvious reasons!
Most Gold Medals in the Olympics by Tennis Players:
| Sl. No. | PLAYER | NUMBER OF TOTAL MEDALS | NUMBER OF GOLD MEDALS |
| --- | --- | --- | --- |
| 1 | Venus Williams | 5 | 4 |
| 2 | Serena Williams | 4 | 4 |
| 3 | Reginald Doherty | 4 | 3 |
| 4 | Andy Murray | 3 | 2 |
| 5 | Laurence Doherty | 3 | 2 |