Rookie Running back Brian Robinson Jr. was back at the Washington Commanders' facility two days after being shot twice during an attempted robbery. He went to see the team physicians to have his injuries checked again.
Brian Robinson: Back with some Cookies
Brian Robinson was on crutches and had a brace and wrap on his right leg. While performing his rookie responsibilities on Tuesday, he also had a pack of Oreo cookies in his possession. Randy Jordan, the running backs coach for the Commanders, can be seen in the video confirming that the rookie received his text asking him to bring cookies for the running back room.
Also Read: NFL Pre-Season 2022: Power Rankings, Predictions, Rating and More!
Brian Robinson: Successful Surgery
The rookie brought a smile as well. He can be seen grinning in several of the team's images. Robinson was "a sight for sore eyes," as Jordan put it as she ascended the stairs. On Monday, Robinson had surgery and was discharged the following day.
Robinson received gunshot wounds to the hip and knee, according to Mike Garafolo of the NFL Network. He was shot in the knee, but the injury was not severe, and the bullet missed important tendons, bones, and ligaments. His return has no set date in the future. Robinson, however, was a part of the Commanders' initial 53-man roster while the team assessed his condition before to the season's start.
Also Read: NFL Rumour: Las Vegas releasing Alex Leatherwood, trying to trade him to everyone
The Incident
According to the spokesperson, Dustin Sternbeck, the shooting happened just before 6 p.m. on Sunday in the 1000 block of H Street NE, and Brian Robinson was the victim. Robinson was given medical assistance after suffering two gunshot wounds. The wounds are not believed to be life-threatening.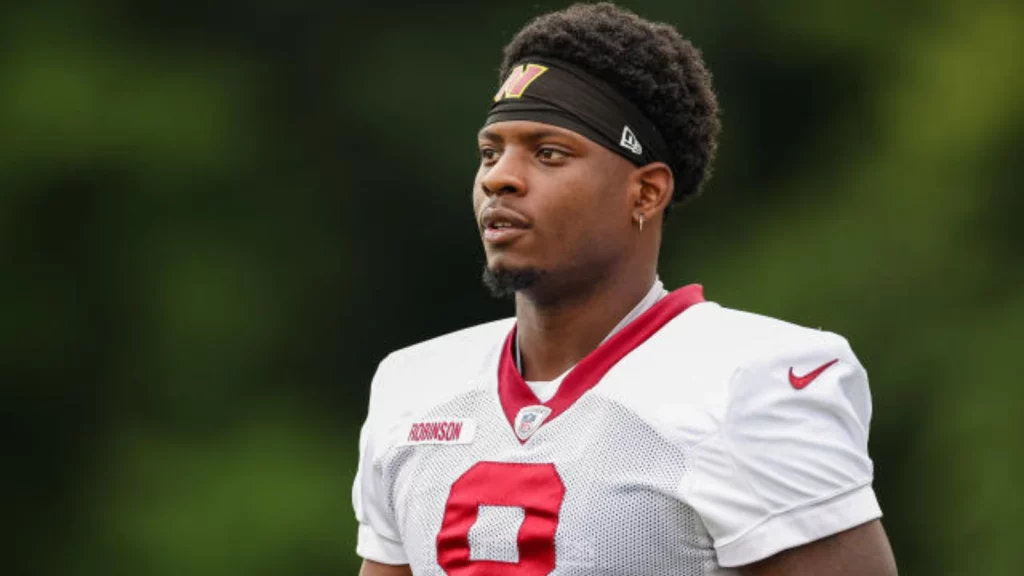 Police are looking into whether the event involved a carjacking attempt or an armed robbery. They claimed to have located the gun about a block south of the scene of the shooting in the 700 block of 10th Street NE and were on the lookout for two young people with shoulder-length dreadlocks. One of them was wearing a black or brown shirt with yellow prints of smiling faces on it. Other information wasn't immediately available.
Also Read: Update: Commanders' player Brian Robinson now Stable after being Shot in Robbery Attempt