Jimmy Garoppolo and the San Francisco 49ers are negotiating a new contract that will make him the highest-paid backup quarterback in the league as told by Ian Rapoport and Mike Garafolo of NFL Network. According to Garafolo, the transaction will be worth a minimum of $6.5 million and a maximum of about $16 million.
Adam Schefter Tweets the news
ESPN Senior NFL Insider, Adam Schefter shared the news on his social media handle. He wrote:
"Jimmy Garoppolo and the 49ers agreed to a restructured one-year contract that will keep the QB in San Francisco this season, per sources. The contract contains no-trade and no-tag clauses, assuring Garoppolo will remain in SF this season and have the freedom to leave in 2023."
He also shared the details of the updated contract.
"Comp update: Jimmy Garoppolo's one-year restructured deal is worth $6.5 million in base, fully guaranteed, per sources. He has another total of $500k in roster bonuses. He also has playtime bonuses that can boost it another nearly $9M. So, one year, $7M, up to just shy of $16M."
Also Read: Cowboy LT Tyron Smith suffers major leg injury, set to miss the season till December
Did 49ers overplayed to keep Jimmy Garoppolo?
Garoppolo's deal might have been restructured because none of the $24.2 million basic salary was guaranteed, giving the organisation flexibility. Given that Trey Lance had taken over as the main quarterback this offseason, many people thought that the 49ers had overplayed their hand in keeping Jimmy Garoppolo.
There is a lot of logic in keeping Jimmy Garoppolo for at least one more season despite the fact that all indications seemed to point toward his departure. It has been simple to overlook that Garoppolo is more than capable since so much of the conversation has focused on what he isn't. He completed 2021 with 3,810 yards and 20 touchdown passes compared to 12 interceptions and a 68.3 percent completion rate, placing him 10th in defense-adjusted yards above replacement.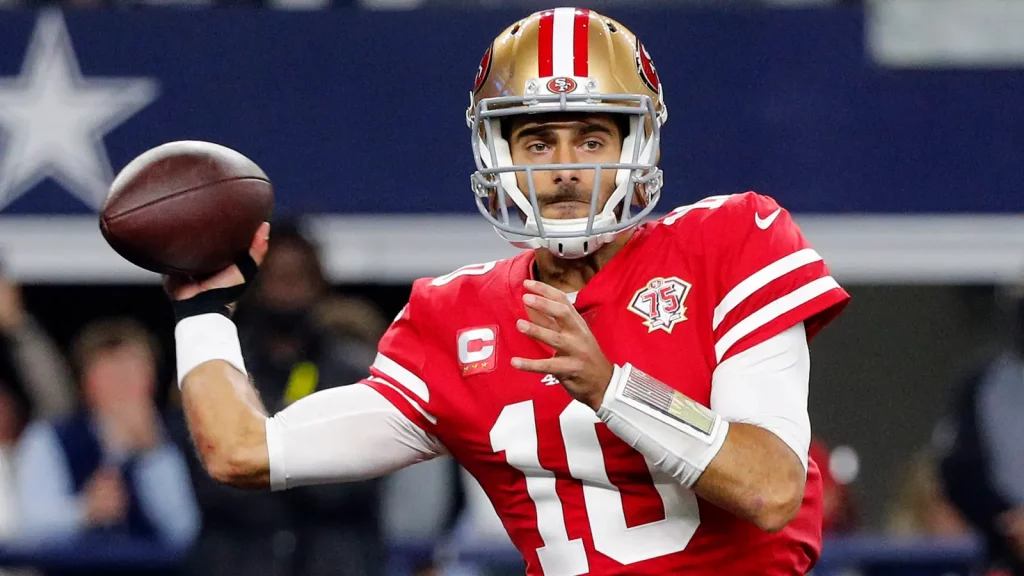 Also Read: Latest NFL TOP 100 List released: Tom Brady on Top followed by Aaron Donald in latest NFL ratings
Will San Francisco 49ers Regret Keeping Jimmy Garoppolo?
In the NFL, nothing generates a story like conflict at the pivotal position. And during the past year or so, it has been difficult to find a team with a quarterback who is a more captivating soap drama than the San Francisco 49ers.
First, in order to choose Trey Lance, a standout from a small-school, the organisation mortgaged its future in the 2021 draught. Jimmy Garoppolo, a seasoned quarterback, went on to guide the 49ers to 10 victories, a wild-card berth, and a trip to the NFC Championship Game. The 49ers then promoted Lance as the future while shopping Garoppolo around the league for the majority of the spring and summer.
Also Read: Update: Commanders' player Brian Robinson now Stable after being Shot in Robbery Attempt