Pass-rusher Harold Landry III of the Tennessee Titans will miss the whole 2022 season due to an ACL tear, according to Adam Schefter. For the past few seasons, Landry has served as the Titans' primary outside linebacker, so losing him is difficult for the Tennessee Titans.
Harold Landry: Titans' Pick in 2018 NFL Draft
In the second round of the 2018 NFL Draft, the Titans picked Boston College's Harold Landry. He has 4.5 sacks, two pass breakups, one forced fumble, 44 tackles, five tackles for a loss, and 14 quarterback hits in 15 games during his first season (three starts).
In his first season as a starter in 2019, the 26-year-old recorded nine sacks, one interception, one pass breakup, one forced fumble, two fumble recoveries, 68 tackles, 12 tackles for a loss, and 14 quarterback hits over the course of 16 games.
He recorded one interception, five pass breakups, 5.5 sacks, 69 tackles, 10 tackles for a loss, and 16 quarterback hits in 16 games during his similarly successful 2020 season.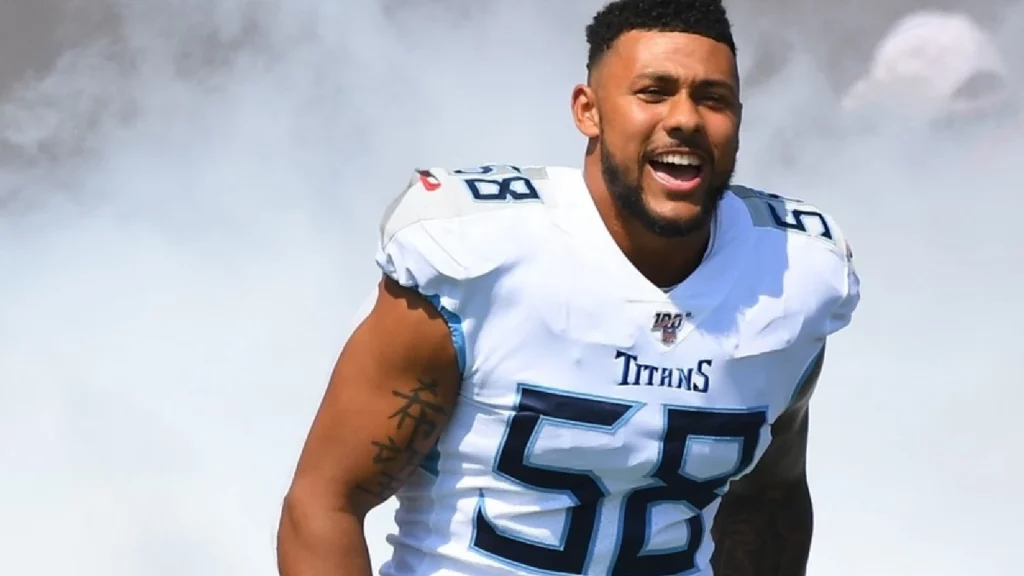 Also Read: NFL Rumour: Las Vegas releasing Alex Leatherwood, trying to trade him to everyone
Harold Landry: Career Best in 2021
In order to earn his first Pro Bowl nomination, Harold Landry had his greatest NFL season in 2021, recording one forced fumble, 12 sacks, 75 tackles, 14 tackles for a loss, and 22 quarterback hits in 17 games. In Tennessee's lone postseason game from the previous season, he was equally impressive, recording 1.5 sacks, six tackles, one tackle for a loss, and two quarterback hits. Landry's deal with the Titans was extended in March for a further five years and $87.5 million; it now runs through 2026.
But due to injury, Harold Landry will have to sit out of the entire NFL season of 2022. NFL confirmed the injury by sharing the news on their Twitter handle.
Also Read: Update: Brian Robinson Returns to team facilities following the Surgery after being Shot twice
Landry and Bud Dupree Combo
Harold Landry and Bud Dupree cannot play outside linebacker together for Tennessee this season. However, Dupree has a deal with the Titans that runs through 2025, so the team should have both players for many years to come to lead the pass rush.
Rashad Weaver and Ola Adeniyi are likely to play more this season with Landry out injured. On September 11, Tennessee takes on the New York Giants in the season opener.
Also Read: Jimmy Garoppolo reveals why he is sticking with 49ers for another year, says "I'm happy where I'm at"