Rourkela: The enchantment cast on Bhubaneshwar seemed to seep into the winding little streets of Rourkela into the Birsa Munda International Stadium. In the Group D matches held in the stadium, the English defeated the Welsh in a five-goal thriller. Rohidas and Hardik Singh nets each to pull the victory card for the hosts against Spain.
In the stadium opener at 17:00 IST, the English defeated Wales to start off their campaign on a bold note. The Europeans squandered five goals in the Welsh goal. The first goal went in pretty soon after the first whistle went out. The teamwork in creating the stunning beauty that is the Nicholas Park goal at the 35th second registered the English in the subconscious. The English led by Sam Ward's brilliance made Wales' attempts pointless.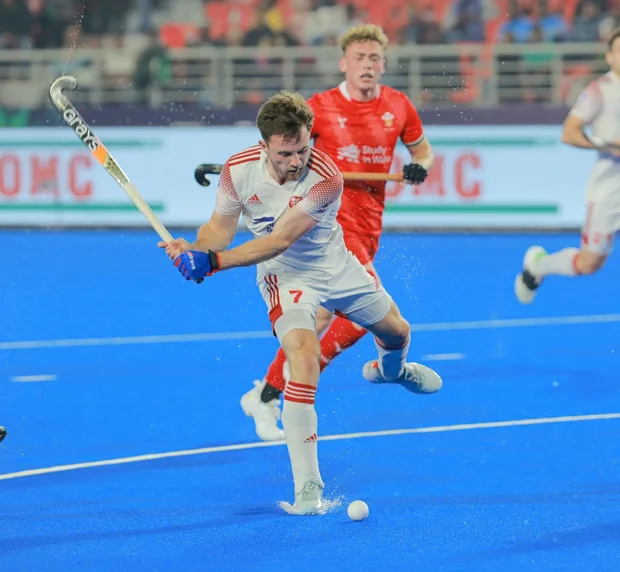 Ansell Liam upgraded the victory margin by converting two penalty corners, 27′ and 37′. Roper Phil fired the fourth goal past Reynolds-Cotterill Toby to make the game more interesting. England decided to call off the day with Bandurak Nicholas's goal via a field goal in the last moments of the game. With a higher goal difference, England moved to the top of Pool D. Wales, on the other hand, has one good debut in the World Cup to forget.
Meanwhile, India defeated Spain to level on points with England. The match could be described as less thrilling compared to the England-Wales match. However, the energy of the crowd was unmatched and rivaled the other matches of the day. India swished the first goal past Adrian Rafi in the 13th minute. A loose shot by Amit Rohidas not only created a lead for the hosts but created a record of 200 goals in the tournament.
The goal joined India in an exhaustive list of Netherlands, Australia, and Pakistan with more than 200 goals. The Spanish armada attempted in equalizing more than once in the forthcoming minutes and the second quarter. Hardik Singh found an opening, sprinted into the danger zone, between four defenders, and took a shot. Deflecting from a defender, the ball rammed up into the net. The Spaniards played decently in the last two quarters trying to score one goal and break the Indian advantage. With smooth defense led by the excellent goalkeeper Kishan Pathur, India managed to pull off a clean sheet.
India plays England in the next game on Sunday. The losers, Spain and Wales play on the same day looking for their first win and first goal. Also Read: Men's Hockey World Cup 2023: Australia Whoops Up The French, Argentina Barely Breezes Past The South Africans
Thank you for reading it. Leave us a comment if you liked it.
Do follow us on: Google News | Facebook | Instagram | Twitter | Youtube | LinkedIn
Have a good day ahead 🙂