Kartik Tyagi, the 20-year-old lean and lanky pacer from Uttar Pradesh came into the limelight after the U-19 World Cup 2020 in South Africa. The scintillating U-19 World Cup performance helped him to get into the Indian Premier League when he was picked by Rajasthan Royals.
Kartik Tyagi is a pacer who idolize Brett Lee
Kartik was born on 8th November 2000 in Hapur, Uttar Pradesh. He has had a fascination with fast bowling. He hails from the same region which has produced swing kings, Bhuvneshwar Kumar and Pravin Kumar. So the ability to swing the ball was right in his DNA. The lad who idolizes Brett Lee has run up somewhat similar to Brett.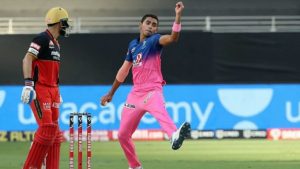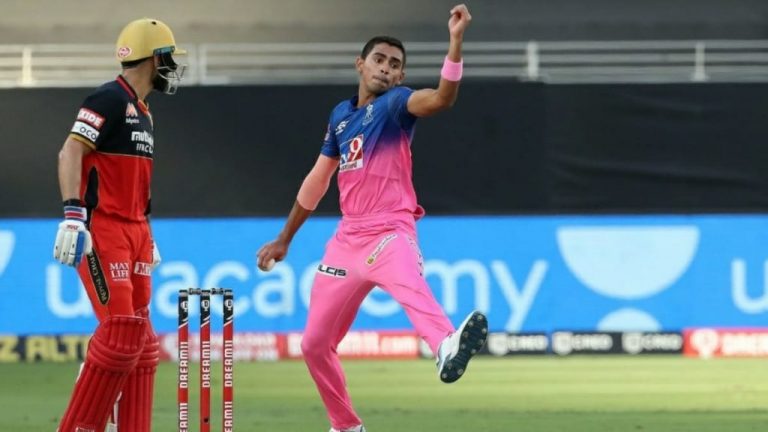 His first-class & Under-19 life
The limelight and success that he has been experiencing are the product of hard work since childhood. He joined the cricket academy in Meerut and was part of the Uttar Pradesh U-19 squad. He made his debut in a First-Class match at the age of just 16! Can you imagine the First-Class debut at the age of 16? Amazing? Isn't it?
Tyagi is the name of dedication & hard work
Unfortunately, the amazing thing turned out to be a sort of bleak one when in his 2nd game for Uttar Pradesh, while warming up with football he fractured his leg. That's where the real struggle started. The First-Class debut at 16 was the best thing that happened so far, but injury ruined everything. It took 6 months for him to recover from his injury. His father had to sell his farming land so that Kartik would not be deprived of any medical treatment. He still thinks that he recovered from injury miraculously and obviously because of the sacrifices his family had made for him.
His move to Meerut wasn't out of the blue, it had some special reason.  He went there to train under coach Vipin Vats, the bowling coach of Bhuvneshwar Kumar.
Kartik might not have taken bags of wickets in First Class, but he did impress all the team members, especially with his pace, work ethic, dedication, and determination.
Also Read Meet Varun Singh Bhati, India's bronze medal winner at Rio Paralympic Games.
Kartik Tyagi performance in U-19 World Cup
It's hard to imagine that the boy who had suffered from an injury that took 6 months out of his career, still makes for the U-19 World Cup squad. Kartik, the ever-hungry fast bowler became the spearhead of India's fast bowling attack in that particular tournament.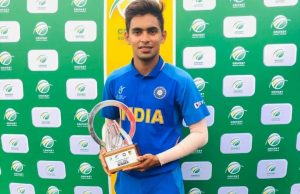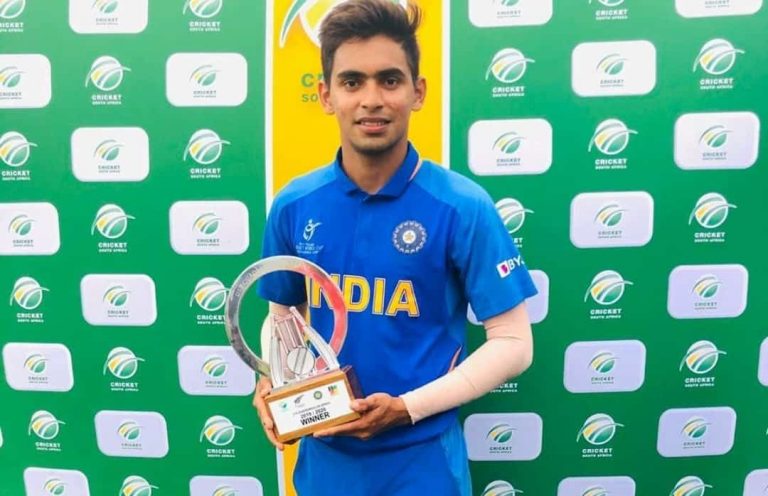 The consistent pace of above 145 kmph mystified the entire world of cricket. The long strides, rhythmic motion of arms, simple repeatable action and yearn to bowl as fast as possible generated such pace which kept batsmen on their toes. India was defeated by Bangladesh in the Final, but all the Indians stamped their authority on the entire tournament by sheer magnitude performances. Kartik finished as the 9th highest wicket-taker in the tournament with 11 wickets in 6 matches at an incredible average of 13.91.
He picked his first maiden IPL wicket in form of Quinton de Kock
The World Cup brought name, fame, glamour, and also the IPL contract. Kartik along with his many colleagues from the U-19 World Cup got the big money IPL contract. Rajasthan Royals spent 1.30 crore for Kartik. He made his IPL debut in 2020, the match was against Mumbai Indians in Abu Dhabi. The South African Quinton De Kock had no answer to the genuine pace from Kartik and Kartik picked his maiden IPL wicket.
The best thing about IPL is the youngsters get a chance to be with the legends of the games. It's not only limited to cricket but youngsters also get to know about how the greats of the game deal with pressures, off-field life, and other small but crucial things.
He is the blend of legends and youths
Kartik Tyagi has played with the likes of Jofra Archer, Jos Butler, and one and only Ben Stokes. The English all-rounder even tweeted about Kartik's action saying "Tyagi has a run-up like Brett Lee and delivers like Ishant Sharma". Kartik played 10 games for RR in 2020 and claimed 9 wickets. Well, the numbers aren't backing the talent he possesses. But every Indian knows how mightily he had performed in those 10 games.  With newer experiences, he will only get better and better.
Kartik Tyagi stats in Domestic Cricket
The energetic Kartik has 3 wickets in the two First-Class games. In List A cricket he has 10 wickets in 7 games at 33.50.
He was a net bowler in the Indian camp when India registered a historic Test series win against Australia in Australia in 2020-21. He would definitely have learned a few tricks there and would be excited to exhibit those in the next games.
A promising future
As said formerly, the numbers are bound to get better. He would be looking forward to improving those stats when the 2021 season of IPL resumes.
We wish him all the very best for the future, we hope he will remain injury-free for the rest of his career!