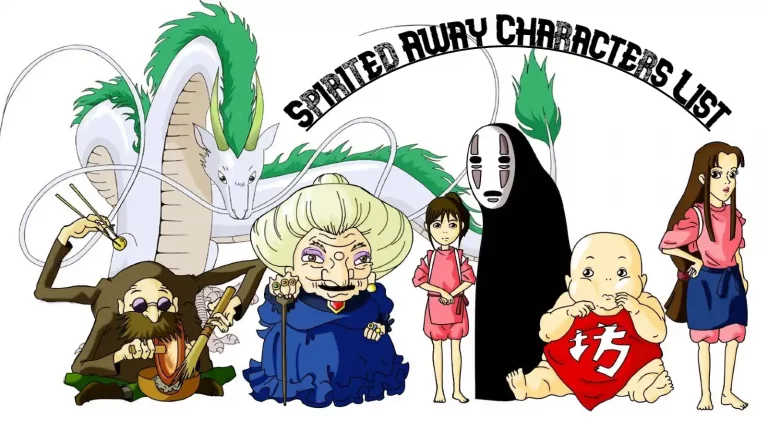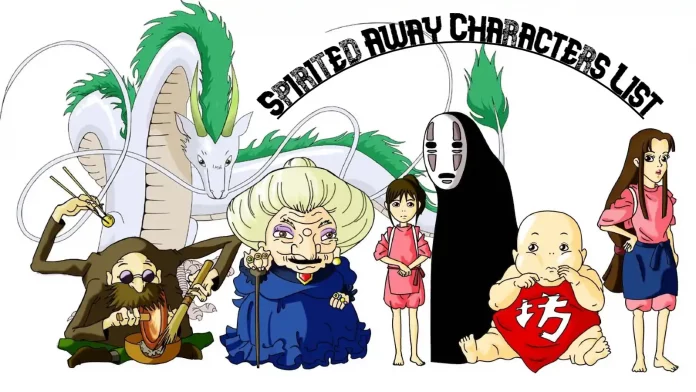 In the well-known Japanese animated film "Spirited Away," a young girl named Chihiro Ogino gets stuck in a shadowy spirit world and has to figure out how to escape to get back home. She encounters a cast of fascinating folks along the road, all of them have their distinctive personalities and peculiarities. This article will provide you with, Spirited Away Characters List.
Get to know the characters from the beloved Japanese animated film, Spirited Away. From the brave protagonist, Chihiro Ogino, to the kind-hearted witch, Zeniba, this list of characters will introduce you to the memorable personalities in the coming-of-age story. Follow Chihiro as she navigates the spirit world and encounters a variety of spirits, including the mysterious No-Face and the lovable Aogaeru. Explore the world of Spirited Away and learn more about the film's captivating cast of characters. Let's have a look at, Spirited Away Characters List.
Spirited Away Characters List –
1. Chihiro Ogino (Sen) –
The protagonist of the story is a young girl who becomes trapped in the spirit world. Despite still being a young girl, the Spirited Away lead character grows up significantly throughout the coming-of-age story. Unfortunately for Chihiro, the majority of the conflicts she runs into during the movie are caused by her apparent incompetence. She is not only a youngster, but also a mortal, and many of the weird spirits she encounters in the baths have far more supernatural abilities than she does. as well as she is forced to work in the bathhouse as a low-ranking employee, but she is smart enough to win Haku, her parents, and her freedom.
2. Haku –
Haku, a spirit that guides Chihiro through the spirit world and eventually reveals his true nature as a river spirit, is one of the movie's primary protagonists. Throughout Chihiro's adventure, Haku, a gentle and considerate character, acts as a mentor and guide. The other spirits revere him since he is a strong, ancient spirit who is also very kind and strong.
3. Yubaba –
a witch who operates the bathhouse in the spirit realm and makes Chihiro into a worker is another significant figure in the movie. Yubaba is a strong, rapacious character who is devoted to power and money. Although she is a demanding and strict boss, she does have affection for her enormous infant son, Boh. Yubaba has a secret tenderness that is exposed later in the movie despite her impolite behavior.
4. No-Face –
No-Face, an enigmatic spirit, becomes interested in Chihiro and starts stalking her. He is a mysterious and reserved character with enormous goodness, but he also has a dark side that can come out when provoked. No-Face serves as a reminder of the importance of staying true to oneself and a warning of the temptation and corruption that can exist in the spirit world.
5. Zeniba –
Yubaba's twin sister and a kind-hearted witch who lives in a nearby cottage. In contrast to her sister, Zeniba is a kind and nurturing person who is always ready to lend a hand to Chihiro and her friends. As a foil to Yubaba's avarice, Zeniba is a smart and caring figure.
6. Kamaji –
The boiler man who works at the bathhouse. He has a no-nonsense behaviour and takes his job seriously, yet he also shows kindness and assistance to Chihiro and her companions. Chihiro looks up to Kamajii since he is a trustworthy and diligent person.
7. Aogaeru –
The frog ghost who works at the bathhouse is called Aogaeru. He is a jovial and mischievous character who loves to get into mischief, but when the occasion demands it, he is also caring and supportive. Chihiro and the other bathhouse staff members consider Aogaeru to be a trustworthy and devoted friend.
8. The Stink Spirit –
When Chihiro meets the Stink Spirit, a filthy and stinky spirit who is changed into a beautiful entity by Chihiro's generosity and compassion, it is one of the most unforgettable scenes in the movie. This scene serves as a reminder that everyone has the capacity for kindness, regardless of how unattractive or filthy they may seem on the surface. It is a monument to the strength of love and compassion.
Some Other Important Characters –
Lin & Rin – one of the workers at the bathhouse and a friend of Chihiro's. Chihiro's pals Lin and Rin are devoted and encouraging. They are friendly and helpful people who are constantly ready to aid out their co-workers, they encourage her through the challenging moments she encounters in the spirit world.
Boh – Yubaba's giant baby son who is transformed into a mouse by Zeniba.
Choushou – Yubaba's assistant who is transformed into a bird by Zeniba.
Akio Ogino & Yuko Ogino – Father and Mother of Chihiro.
The River Spirit – Haku's true identity, a powerful and ancient spirit who is revered by the other spirits.
The Soot Balls – small, soot-covered spirits who work in the boiler room of the bathhouse.
Overall, the characters in "Spirited Away" are diverse and well-developed, each with their own unique personalities and motivations. These characters help to bring the spirit world to life and make the film a timeless classic which is a total masterpiece.
Thank you for reading it. Leave us a comment if you liked it.
Do follow us on: Google News | Facebook | Instagram | Twitter | Youtube | LinkedIn
Have a good day ahead 🙂