Vickie Guerrero, born on April 16, 1968, in El Paso, Texas, is widely recognized in the wrestling world, not just as the wife of the late, great Eddie Guerrero, but also for her own impactful career within WWE.
She has carved out a unique space for herself in the wrestling industry, becoming one of the most notable non-wrestling personalities in WWE history.
Her catchphrase, "Excuse me!", is etched in the memories of wrestling fans around the world, symbolizing her assertive and often irksome character that knew how to draw heat like no other.
Early Life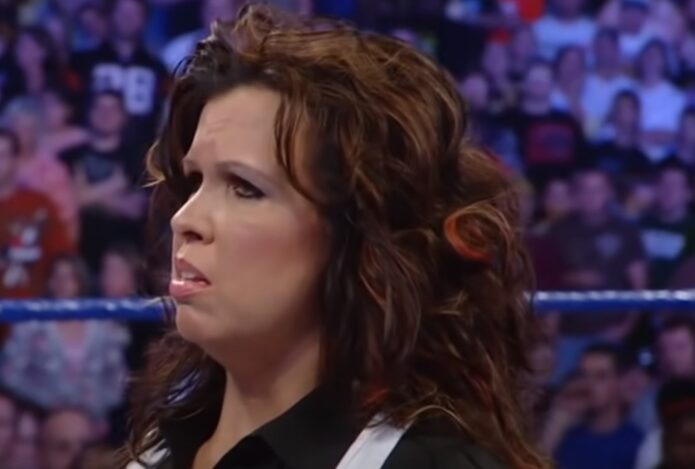 Childhood and Family Background
Vickie Guerrero, born Vickie Lynn Lara, spent her early years in El Paso, Texas, where she was enveloped in a loving and close-knit family.
Her childhood, though largely private and away from the limelight, laid the foundation for the strong, resilient woman that wrestling fans would come to know in the future.
Vickie's early years were shaped by the values of unity and support, which later became pivotal in her journey through the trials and tribulations in the wrestling world.
While not much is widely known about her parents and siblings, it is evident that her upbringing was grounded in strong familial ties and moral values.
These values became a beacon of strength for her, especially during the challenging times she faced following the loss of her husband, Eddie.
Her family background not only provided her with a safety net during times of despair but also instilled in her the strength to carve out her own path in a domain predominantly ruled by male personalities.
Education and Early Career
Details about Vickie's educational background and early career are not widely publicized, keeping a portion of her life away from the scrutinizing eyes of the public.
However, it is known that she was a steadfast and determined individual from an early age, qualities that would later play a crucial role in her wrestling career.
Her life took a significant turn when she met Eddie Guerrero, a man who was deeply embedded in the wrestling world, thereby intertwining her destiny with the wrestling industry.
Vickie's early career, before becoming a prominent figure in WWE, was largely centered around her family.
She played a pivotal role in managing the household and supporting Eddie's burgeoning wrestling career.
Her entry into the wrestling world was not planned but rather a consequence of circumstances, especially following Eddie's passing.
She transitioned from a supportive spouse and mother into a prominent on-screen personality, showcasing her adaptability and strength in the face of adversity.
Marriage to Eddie Guerrero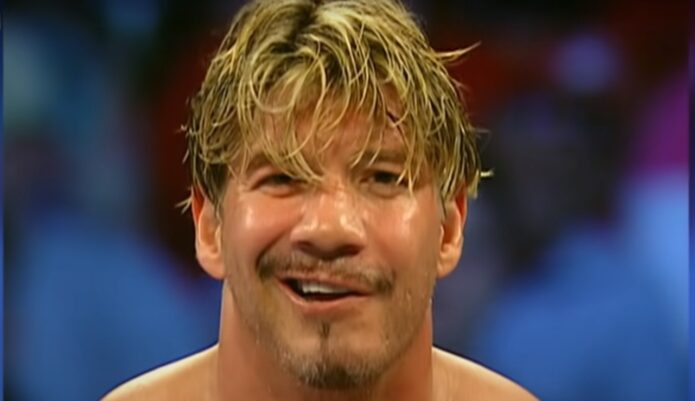 Love Story and Wedding Details
Eddie and Vickie's love story is one that is cherished and remembered by wrestling fans across the globe.
The couple first met when Vickie was just 18 years old, and their connection was instant.
Eddie, a part of the renowned Guerrero wrestling family, and Vickie, a young woman far removed from the wrestling limelight, embarked on a journey that would see them become one of the most talked-about couples in the wrestling world.
Their wedding, held on April 24, 1990, was a celebration of their love and the beginning of a partnership that would endure through highs and lows, both inside and outside the ring.
Their marriage was not just a union of two individuals but also a blending of their worlds.
Vickie, who was initially distant from the wrestling industry, gradually became an integral part of it, supporting Eddie through his career, struggles, and triumphs.
Their love story, though beautiful, was also marred by challenges, including Eddie's struggles with addiction and the pressures of the wrestling industry.
Life with Eddie and Family
Life with Eddie was a rollercoaster of emotions and experiences for Vickie.
Eddie, who was widely recognized for his charisma and talent in the ring, battled demons behind the scenes, particularly with substance abuse.
Vickie stood steadfastly by Eddie during his struggles, showcasing a resilience and strength that would later define her character in the WWE.
The couple was blessed with two daughters, Shaul and Sherilyn, and despite the tumultuous nature of life in the wrestling limelight, they strived to provide a stable and loving environment for their children.
Eddie's struggles with addiction and his subsequent recovery were pivotal moments in their family life, shaping their relationships and futures in significant ways.
Vickie not only played a crucial role in supporting Eddie through his struggles but also in preserving the stability of their family during challenging times.
Their story is not just one of love and partnership but also of endurance and unwavering support through life's trials.
Career in Wrestling
Entry into WWE
Vickie Guerrero's entry into WWE was not through the conventional paths that many take to become a part of the wrestling world.
Her initial appearances were alongside Eddie, playing a part in his wrestling storylines.
However, after Eddie's untimely death in 2005, her role in WWE evolved, and she became a prominent on-screen personality.
Her character, often portrayed as a shrewd and conniving authority figure, became a significant part of various storylines, and her catchphrase "Excuse me!" became synonymous with her persona.
Vickie, despite not being a wrestler, managed to carve out a space for herself in WWE that was distinctive and impactful.
Her ability to draw heat from the audience and her impeccable timing in delivering promos made her an invaluable asset to the WWE storylines she was a part of.
She navigated through her unexpected career path with grace and strength, turning her grief into a driving force that propelled her into becoming one of the most notable non-wrestling personalities in WWE history.
Managing Superstars
Vickie Guerrero, with her assertive on-screen persona, transitioned into roles of authority within WWE storylines, often managing superstars and becoming an integral part of their narratives.
She managed various renowned wrestlers, including Edge, with whom she was involved in a high-profile on-screen relationship and Dolph Ziggler.
Her character was often embroiled in controversies and was pivotal in generating heat in the storylines she was involved in.
Managing superstars allowed Vickie to showcase her versatility and ability to adapt to various narratives and characters within WWE.
Her interactions with the wrestlers she managed and her involvement in their storylines provided entertainment and often, unexpected twists that kept the audience engaged.
Vickie, with no prior experience in wrestling, managed to understand the nuances of the industry and played her role to perfection, contributing significantly to the success of the storylines and wrestlers she was associated with.
Return to WWE
Vickie Guerrero's return to WWE after taking a hiatus was met with much anticipation and excitement from fans and colleagues alike.
Her character, which had always been pivotal in generating strong audience reactions, was a welcome addition to the evolving storylines within WWE.
Achievements and Struggles
Vickie, despite not being a wrestler, managed to create a legacy that was distinctive and impactful, showcasing her understanding and mastery of the wrestling world.
However, her journey was also marked by struggles, especially balancing the demands of her career with her personal life.
Vickie, while managing her on-screen character and involvement in various storylines, also navigated through the challenges of being a single parent and managing the scrutiny that came with being a part of the wrestling world.
Her journey was a blend of triumphs and challenges, each shaping her career and personal life in distinctive ways.
Vickie Outside the Ring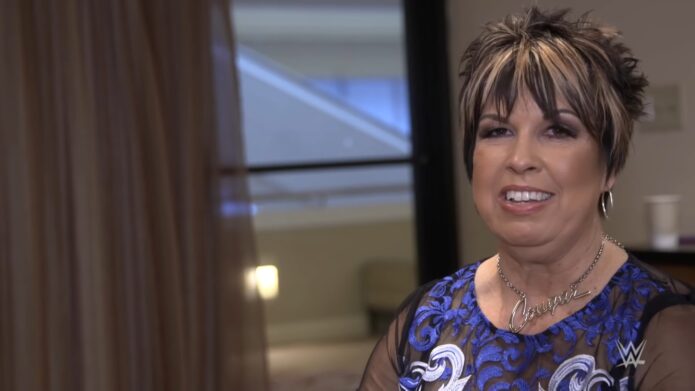 Personal Interests and Hobbies
From being an avid fan of crime shows to enjoying time outdoors, Vickie's life outside the ring is grounded and relatable, providing a stark contrast to the high-energy and controversial character she portrays on screen.
Vickie's interests also extend to her love for spending time with her family and exploring new places.
Her life, away from the scrutinizing eyes of the public, is private and protected, ensuring that she has a sanctuary away from the pressures and demands of her professional life.
Charity and Social Work
Vickie Guerrero is not only known for her contributions to the wrestling world but also for her involvement in various charitable activities and social work.
Through various initiatives and collaborations, she has been involved in numerous charitable activities, providing support and raising awareness for various causes.
FAQs
How did Vickie Guerrero transition from being a family figure to an on-screen personality in WWE?
She initially appeared alongside her husband Eddie in various storylines, portraying the role of a supportive wife.
After his passing, WWE incorporated Vickie into more storylines, gradually transitioning her into a more prominent on-screen role.
Her natural ability to draw heat from the audience and her willingness to embrace various characters and storylines facilitated her transition into a full-fledged on-screen personality.
What was the audience's reaction to Vickie Guerrero's heel turn and villainous persona?
The audience's reaction was overwhelmingly negative, which in the realm of professional wrestling, indicates success in portraying a heel character.
Her catchphrase "Excuse me!" became a trigger for boos and jeers from the audience, solidifying her as one of the most effective heels in WWE history.
How did Vickie Guerrero manage to balance her on-screen villain persona with her off-screen personality in public appearances?
She has often been praised for her ability to separate her on-screen villain persona from her off-screen personality during public appearances and interactions with fans.
She is known to be approachable, friendly, and engaging in real life, often sharing moments from her personal life and interacting positively with fans on social media and during meet-and-greet events.
What impact did Vickie's podcast have on her public image and connection with fans?
"Excuse Me: The Vickie Guerrero Show" allowed fans to see a different side of Vickie, one that is genuine and personal.
Through her podcast, Vickie has been able to connect with fans on a deeper level, sharing her thoughts, experiences, and stories from her life and career.
It has allowed her to engage with fans in a more personal and authentic manner, enhancing her connection with them beyond her on-screen persona.
How did her role in AEW differ from her role in WWE?
In AEW, Vickie Guerrero has embraced a managerial role, aligning herself with various talents and forming alliances.
While she still maintains a heel persona, her role in AEW has seen her engage in different dynamics and storylines compared to her WWE tenure.
Vickie has utilized her experience and knowledge to navigate through AEW's landscape, managing talents and engaging in various segments and storylines.
Summary
Vickie Guerrero stands as a symbol of perseverance, showcasing that life, despite its unexpected turns and challenges, can be navigated with strength and determination.
Her story continues to unfold, with Vickie remaining a relevant and respected figure in the wrestling world and beyond.
As she navigates through her current roles and explores new avenues, she continues to be a source of inspiration and strength to many, showcasing that with resilience and commitment, one can navigate through life's varied challenges and create a legacy that is enduring and impactful.