Fans of the electrifying WWE Superstar Damian Priest have always been eager to uncover the intricate details of his romantic life. However, the charismatic wrestler has managed to maintain an air of mystery around his personal affairs.
Despite the intense public scrutiny, no concrete evidence of Damian's relationships or marital status has surfaced. He remains one of the few celebrities who have successfully kept their love life away from the prying eyes of the media. Luis Martinez, popularly known as Damian Priest, has made a significant mark in the wrestling world.
Currently showcasing his talent under the Raw brand in WWE, his on-screen charisma is undeniable. But it's his off-screen life that has garnered much speculation. Rumors on TikTok suggest that Damian might be in a relationship with Mandi Elaine. However, this remains unconfirmed as Damian continues to prioritize his privacy.
Controversy
In 2022, Damian found himself at the center of controversy. Accusations of infidelity surfaced on social media, with Twitter users sharing screenshots of alleged conversations.
Chyna Claire Lopez, an Instagram user, even claimed that Damian had been involved with two other women while in a relationship. But as with many aspects of his personal life, the truth remains elusive.
Mandi Elaine: The Woman Behind the Rumors
View this post on Instagram
The digital realm is rife with speculation about Mandi Elaine. From the limited information available, Mandi emerges as a dedicated mother and a proficient social media manager. Her Instagram account offers a glimpse into her life, where she often shares heartwarming moments with her young daughter, exuding pure maternal happiness.
However, a closer look at Mandi's Instagram reveals no evident ties to Damian Priest. There's a conspicuous absence of any interactions or mentions between the two, further complicating the narrative around their rumored relationship.
In the past, Damian has been linked to several wrestling personalities, including the Bella twins – Nikki and Brie. He's also been spotted with other wrestling talents like Rhea Ripley, Dakota Kai, and Raquel. These associations have fueled further speculation about his romantic life.
Damian Priest: A Glimpse Beyond the Ring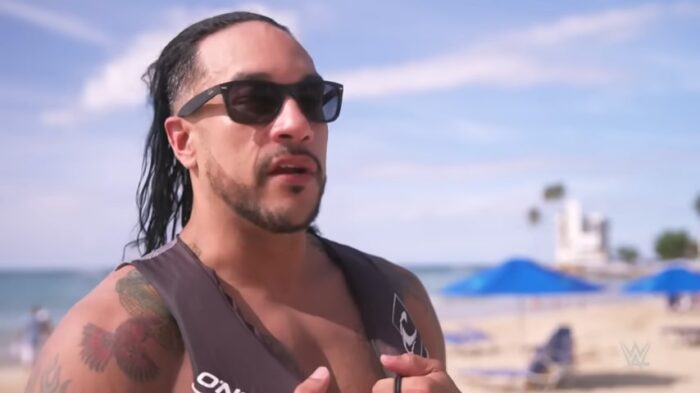 A Journey from Dorado to the WWE Ring
Born as Luis Martinez on September 26, 1982, Damian Priest's roots trace back to New York City. However, he spent a significant chunk of his formative years in Dorado, Puerto Rico.
It was during this time in Dorado that he stumbled upon the World Wrestling Council on television, igniting his passion for professional wrestling. His upbringing was not just limited to regular childhood experiences; Damian was trained in Japanese Gōjū-ryū karate by his martial artist father.
This early exposure to martial arts would later influence his unique wrestling style. Damian's prowess wasn't just limited to martial arts.
Before stepping into the wrestling world, he had already made a mark in full-contact martial sports, clinching two national titles. But the allure of professional wrestling was too strong to resist.
This passion led him back to the United States, where he embarked on a journey to make a name for himself in the wrestling arena.
Despite his deep Puerto Rican roots, Damian's primary language remained Spanish, leading him through a phase of cultural assimilation as he made his mark in the American wrestling circuit.
Rising Through the Ranks: Damian's Wrestling Odyssey
Damian Priest's wrestling avatar has left an indelible mark on fans worldwide. Currently associated with WWE, he performs under the Raw brand as part of the stable, The Judgment Day. But his wrestling journey wasn't always tied to WWE.
Damian also made waves in Ring of Honor (ROH) under the moniker Punishment Martinez. His time in ROH was marked with significant achievements, most notably winning the ROH World Television Championship.
Damian's talent also took him to Japan, where he wrestled as Punisher Martinez, thanks to the collaboration between ROH and New Japan Pro-Wrestling (NJPW). Damian's recent wrestling escapades have been nothing short of thrilling.
Whether it was teaming up with the music sensation Bad Bunny at WrestleMania or his intense rivalries with other wrestling stars like Dominik, Damian's WWE journey has been a roller-coaster of emotions and adrenaline-pumping action.
The Enigma Continues: Damian's Personal Life
While Damian's in-ring exploits are well-documented and celebrated, his personal life remains an enigma. The whispers about his relationship with Mandi Elaine continue, but Damian's preference for privacy means concrete details are hard to come by.
This respect for privacy extends to other aspects of his life as well, including whether he has any children. In the world of wrestling, where personal lives often become fodder for storylines and controversies, Damian's choice to keep his personal life under wraps is both commendable and intriguing. As fans, while the curiosity remains, there's also a deep-seated respect for his choices.
The TikTok Buzz
The world of TikTok is no stranger to the allure of Damian Priest. With over 3.4 million views on videos related to Damian and his rumored girlfriend, Mandi Elaine, it's evident that the wrestling superstar has a significant presence on the platform.
Fans and creators alike have taken to TikTok to express their admiration, curiosity, and, sometimes, sheer fandom for the WWE sensation.
Fan Reactions and Speculations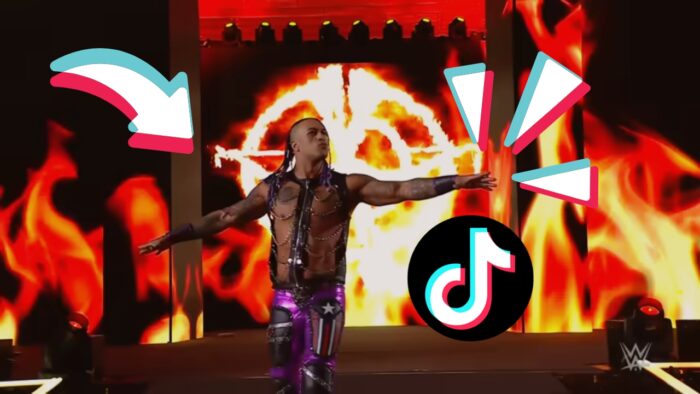 Several TikTok users have shared their reactions to Damian's wrestling prowess and his rumored relationship. One user, @mur_ph89, humorously expressed their admiration for Damian, hinting at his undeniable charm and appeal.
Another user, @bella_490310_11_97, highlighted a playful interaction between Rhea Ripley and Damian, showcasing the camaraderie between WWE stars. The platform also sees a plethora of videos that delve into Damian's evolution as a wrestler.
From his early days to his current WWE stardom, fans have meticulously chronicled his journey, reflecting the deep admiration they hold for him. A user by the name @evolutionofwrestlingofc has even detailed Damian's transformation from 2016 to 2023, emphasizing his growth and achievements in the wrestling world.
The Enigmatic Relationship: Damian and Mandi
While Damian's wrestling achievements are a frequent topic of discussion, his rumored relationship with Mandi Elaine continues to pique the curiosity of many.
The TikTok community is abuzz with speculations, with some users sharing snippets that might hint at their relationship while others simply express their wishful thinking. However, as with other platforms, concrete details about their relationship remain elusive on TikTok.
Closing Thoughts
The story of Damian Priest and Mandi Elaine is one wrapped in layers of intrigue and speculation. While the wrestling superstar's on-screen exploits are there for all to see, his off-screen life remains a puzzle. Mandi Elaine, on the other hand, continues to live her life, sharing snippets on social media, all the while maintaining a distance from the rumors that link her to Damian.