The face-off: Mike Atherton and Allan Donald fight in 1998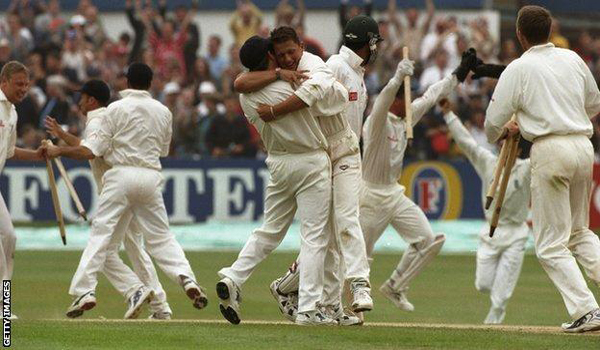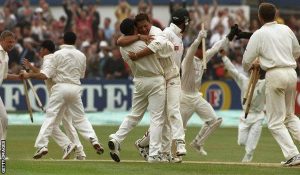 Mike Atherton and Allan Donald fight in 1998, It was the 4th Test match of the 5-match Test series between England and South Africa on English soil. SA won the 2nd Test and was leading the series by 1-0. Till the 3rd Test, both sides had suffered from some incorrect umpiring decision, obviously, both players were fired up for the 4th Test match.
SA had a plan to bowl aggressively to Atherton in the 4
th
innings of the match. The plan came into action when the score of England was 100 odd for 1 wicket chasing 247.
Hostile bowling without the reward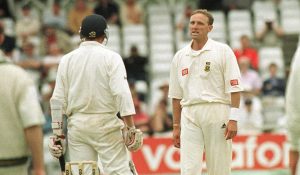 Donald was really into his game and had an excellent rhythm. He was bowling his heart out, a very brutal spell of short bowling. Atherton did what Atherton was famous for, taking blows on the body, stoical batting. The trigger point was when Atherton gloved the ball cannoning towards his throat and went into the hands of WK. But the umpire remained unmoved and so did Atherton. Both the bowler and batsman knew that the ball had hit the glove. They exchanged the words, no one wanted to back off.
Atherton's tenacity
It followed a fierce, brutal, vicious spell of short bowling. Every bowl aimed at the head. The scary moment was when Nasser Hussain was dropped by Mark Boucher and agonized Allan Donald screamed in exasperation. The stubborn Atherton remained not out on 98 from 277 balls and aided England to chase the target and took the series to parity.
Great advertisement for the Test cricket
The world responded to this confrontation between Atherton and Donald, not negatively but with full admiration and praise. These are the moments for which you play the game and fans watch it with zeal. It was the genuine Test cricket stuff. The moment epitomizes why Test cricket is the best format.
The on-field battle, off-field laughter, 6 beer bottles, and glove with the red mark
The confrontation on the field remained on the field, Atherton went with 6 bottles of beer in SA dressing room to lighten up things. Along with the beer, mischievous Atherton took another thing in the SA dressing room. The gloves with a red mark made by the ball when he had been adjusted not out.
The incident took place on 26th July 1998. After the incident, a nice friendship started between Mike and Allan.
Thank you for visiting TheSportsLite.com
Waiting for you again.