ATP is a worldwide tennis tour organized for men by the Association of Tennis Professionals. ATP stands for Association of Tennis Professionals. It is an organization for only men and boys.
WTA is also a worldwide tennis tour organization and the principal organising body of women's professional tennis. WTA stands for Women's Tennis Association. It is an organization only for women and girls. There are few similarities and differences between ATP and WTA, let us check them.
Also check our: Most dominant head-to-head records to date in the history
Similarities between ATP and WTA
The same number of categories of tournaments
The ATP Tour comprises- ATP Masters 1000, ATP Masters 500, ATP Masters 250 and ATP Cup. The second-tier tour consists of ATP Challenger Tour and ATP Champions Tour (for seniors). The Grand Slam (4) tournaments, the Davis Cup and the entry-level ITF World Tennis Tour are overseen by ITF.
The WTA Tour comprises first-tier events- WTA 1000, WTA 500 and WTA 250. It consists of a year-ending WTA Finals and Grand Slams (4). There are Premier tournaments: Premier mandatory, Premier Five and Premier. WTA comprise one extra tour named as WTA 125k series.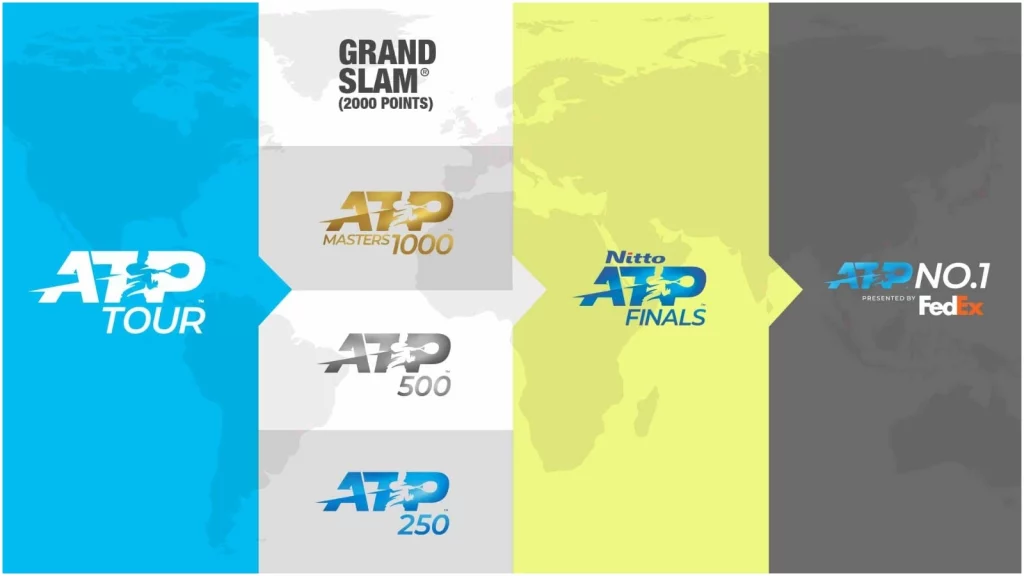 Differences between ATP and WTA
Tennis Ball Variation in WTA & ATP
ATP uses an extra duty felt ball whereas WTA uses a regular duty felt ball. An extra-duty felt ball slows down the ball and the regular duty felt ball tends to increase the pace to speed up the match. Although, both plays with the same size and tennis ball varies from tournament to tournament depending on the sponsors.
Race to ATP and WTA Finals
ATP Nitto Finals
The Top eight singles players and doubles teams of ATP Rankings qualify for the ATP Nitto Finals. Only those top players get enrolled with ATP ranking the day after the final tournament of the Rolex Paris Masters.
WTA Finals
The WTA players compete throughout the year in almost 53 WTA tournaments all over the world as well as four Grand Slams. After the end of these tournaments, the top eight players qualify for the WTA Finals.
Total number of sets to play in Grand Slams
The Grand Slams are the Australian Open, US Open, French Open and the Wimbledon. WTA players are limited to playing a maximum of three sets which means if both players win one set each then a decider third set is played. Whereas, the ATP forces to play a maximum of five sets to decide a match in any Grand Slam. Unlike women's matches, men have to win a maximum of three sets out of five to win a match. Other than Grand Slams both Men and Women play a maximum of three sets.
Breakdown of ATP Prize Money vs WTA Prize Money
ATP offers much high prize money to the men players whereas the WTA offers less to the women players. But, prize money remains the same for the tournaments such as Grand Slams and the tournaments played for both men and women.
2022 ATP Top Prize earners
Novak Djokovic – $154,875,793
Rafael Nadal – $128,081,950
Andy Murray – $62,631,258
Stan Wawrinka – $34,813,715
Alexander Zverev – $30,693,826
2022 WTA Top Prize earners
Serena Williams – $94,518,971
Venus Williams – $42,280,540
Maria Sharapova – $38,777,962
Simona Halep – $38,632,520
Victoria Azarenka – $43,175,326
ATP pays more to their players as compared to WTA. But still it is better than leagues like WNBA or the WSL, but it is still not equally paid.
Also check: Top 5 tennis players with the longest World No.1 ranking
Have a great day ahead!