The last Test match of the 1948 Ashes was scheduled from 14th to 18th August. Australia already had pocketed the series and now they were planning to give a massive sendoff to Sir Donald Bradman who was playing his last Test of an illustrious and prolific career.
The English side after 3 losses in the series on their home soil was already in a spot of bother. The last thing England wanted was another shameful performance and that is what exactly happened.  Australia bowled out the Hosts in the first innings of the 5th Test for just 52. Can you imagine?
Donald Bradman got emotional due to standing ovation given by everyone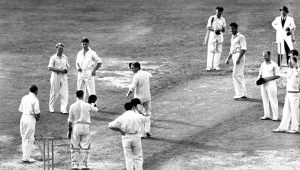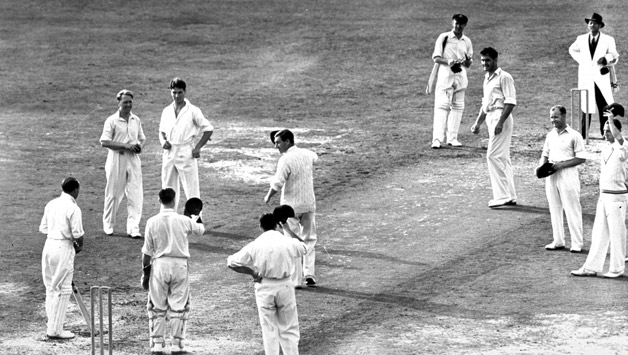 In reply, Australia's opening stand of 117 continued the English humiliation. The stage was set for Bradman to pile on another few runs. A victory by innings was really on cards for Australians and keeping that in mind, the possibility of Bradman not getting 2nd innings batting was huge. He was in need of mere 4 runs to achieve a feat of having a career average of 100. Scoring tons and tons of runs in the Test matches was bread and butter for him. So four runs wasn't a big deal.
Perhaps destiny had something different in her mind. At the fall of the first wicket, Bradman came to bat. From an old wise man to many young Turks, everybody gave a standing ovation to Bradman, including the England players. Just imagine the atmosphere, Bradman was absolutely emotional by such an overwhelming gesture from the crowd.
Bradman got bold at a duck on famous googly and received more applause
Sir Bradman played the first ball off Eric Hollies from the back foot. The 2nd ball deceived him, a googly that he could not read and Bradman heard the sound of the ball hitting the timber. That's it. The greatest batsman of all time was dismissed for a duck in his last innings. Bradman received another pleasant and overwhelming gesture from the crowd and England players. This was louder than what he had received when he came out.
Also Read: La Liga 2021-22: Know everything about all New Captains Of FC Barcelona
Donald denied the false theories on getting tears due to duck
Some theories started to come out. Many said Bradman became emotional due to such a wonderful act by the crowd & England players which ensued some tears due to which he couldn't pick the googly. Bradman later accepted the fact that he was emotional and overwhelmed by the response, but denied the tear theory and gave full credit to the bowler for deceiving him.
Australia won the match and bagged the series by 4-0.
Donald Bradman's all-round performance
Sir Donald Bradman, in 52 Tests has really piled on the runs, 6996 runs at an average of  99.94. It included 29 centuries and 13 fifties, the best score of 334. He has astoundingly scored 12 double centuries in his Test career, the most by any batter.
In 234 First-Class matches, he has accumulated 28067 runs at 95.14 with mind-boggling 117 centuries and 69 half-centuries. The highest score is 452 not out.
It was today, back in 1948, the greatest batsman of all time played for the last time.