Real Madrid's 22 year old Brazilian forward Vinicius Junior has accused La Liga of racism and called Spain a country of racists. All of these came after Real Madrid's 1-0 defeat at Valencia's mestalla stadium.
The young Brazilian pointed out a fan in the stands after receiving racial slurs leading to match being stopped for 10 minutes in the second half, and then altercation with Valencia's Hugo Duro which resulted to his sending-off in added time.
After the game Vinicius took on Twitter and wrote, "It is not the first time, nor the second, nor the third. Racism is normal in La Liga. The competition considers it normal, the federation considers it normal and the rivals encourage it".
He also added " The championship that once belonged to Ronaldinho, Ronaldo, Cristiano and Messi today belongs to racists. A beautiful nation, which welcomed me and which I love, but accepted to export to the world the image of a racist country. I am for those Spaniards who disagree but today, in Brazil, Spain is a known as country of racists." Also read:Historic Season Culminates With Dortmund Holding All The Cards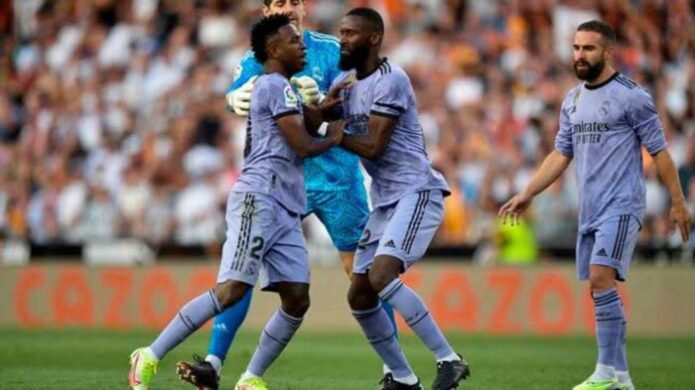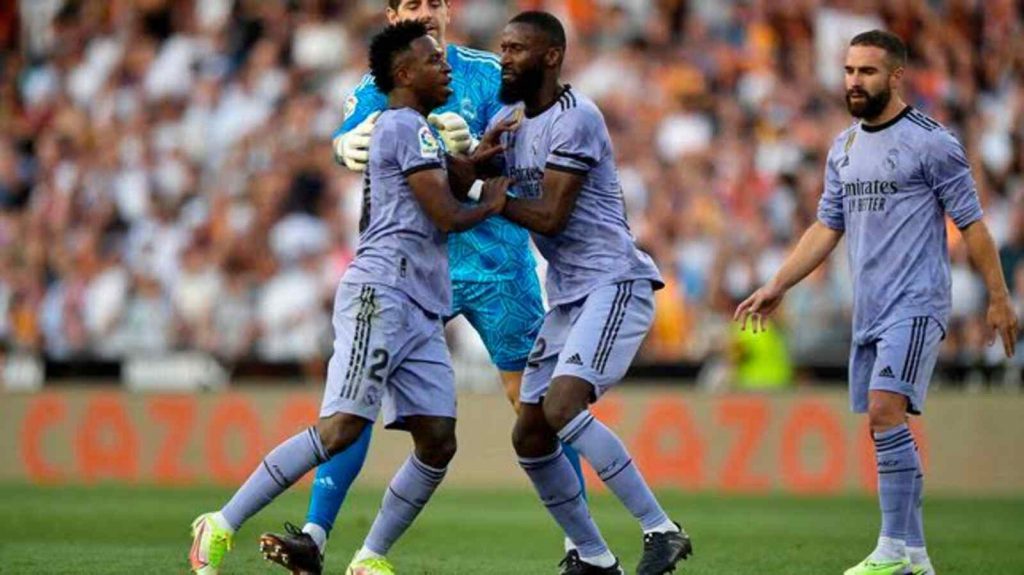 Real Madrid's manager Carlo Ancelotti also took on Social media and spoke against the incident, "Today has been a sad day at Mestalla, where a group of fans have shown their worst version. It is time to stop talking and act forcefully. Racism has no place in football or in society. NO TO RACISM ANYWHERE.
La Liga president Javier Tebas responded following Vinicius' strong claim, Before criticising and insulting La Liga, you need to inform yourself properly, Vinicius".
However Luis Rubiales, the president of the Royal Spanish Football Federation, took Vinicius' side and argued that discrimination is indeed an issue in Spain, "We are a very welcoming country that receives millions of visitors every year, people from all over the world, footballers and fans. Vinicius Jr. and any footballer, woman or man who suffers an insult, in this case due to racism but also due to orientation sexual or creed, you have my support, that of the federation. We are here to support and help and to ask them to help us improve."
He also added : " I ask Vinicius to ignore the irresponsible behaviour of the president of La Liga who gets on social networks in an entanglement with a footballer who hours before has received racist insults. "Probably Vinicius is more right than we think and we all need to do more about racism."
The president of the Brazilian football confederation, Ednaldo Rodrigues, also sent a message of support to the 22-year-old player. "How long are we going to experience, in the middle of the 21st century, episodes like the one we just witnessed, once again, in La Liga? There is no joy where there is racism. Skin colour can no longer bother," he said on social media. Also read: Football transfer news
Football's governing body FIFA's president Gianni Infantino expressed his support for Real Madrid forward Vinicius Jr."Full solidarity to Vinicius. There is no place for racism in football or in society and FIFA stands by all players who have found themselves in such a situation," Infantino said in a statement."
The Brazilian received a wave of support from the footballing community around the world including the former players . "You are not alone. We are with you and we support you," Mbappé wrote on Instagram. Rio Ferdinand also took to Instagram, posting: "Bro you need protecting….who is protecting @vinijr in Spain ?? He receives a red card after being choked and receiving racial abuse during the game….wtf. How many times do we need to see this young man subjected to this s***?? Also read:Barcelona celebrates their title as Real Sociedad aims of returning to UCL.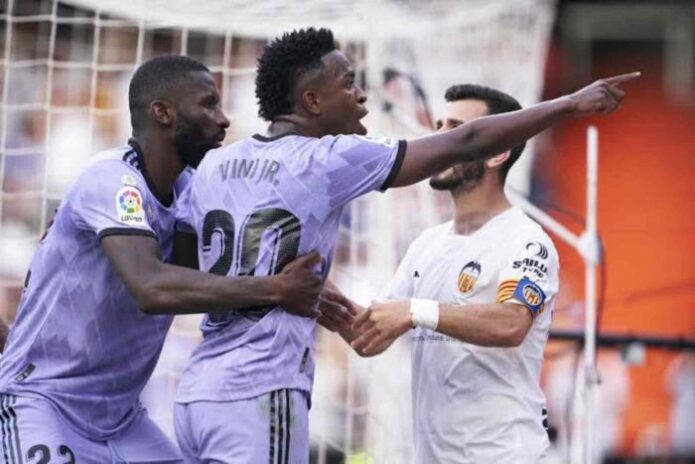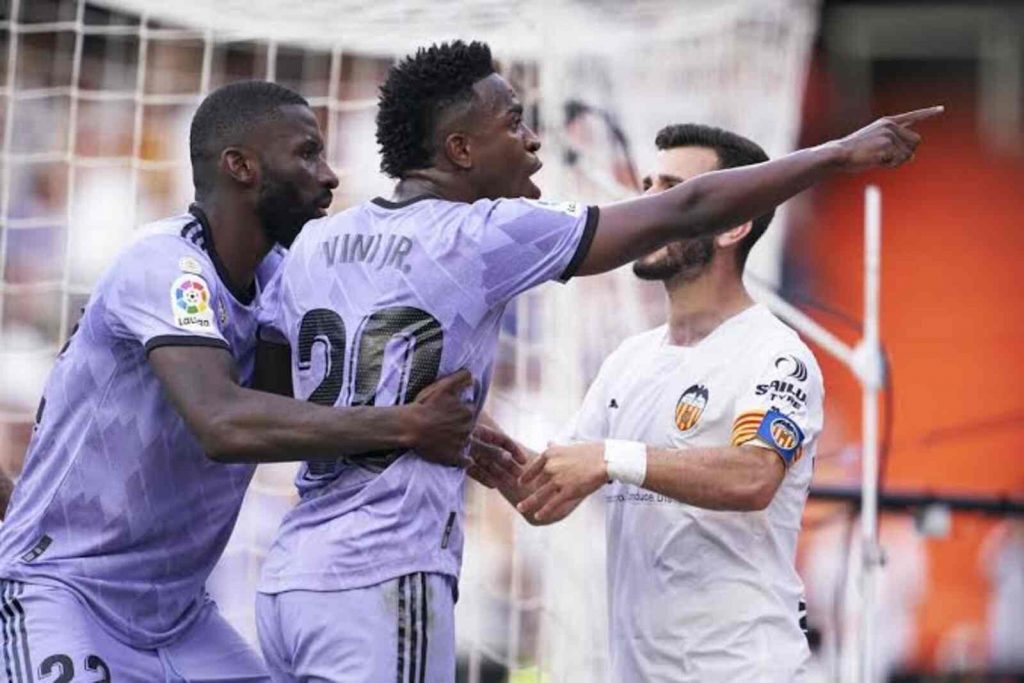 Official statements by both the clubs-
"Real Madrid C. F. strongly condemns the events that took place yesterday against our player Vinícius Junior. These events represent a direct attack on the social and democratic model of coexistence of our State based on the rule of law. Real Madrid believes that such attacks also constitute a hate crime, and has therefore filed the corresponding report with the Attorney General's Office, specifically with the Prosecutor's Office against crimes of hatred and discrimination, in order for the facts to be investigated and for those responsible to be held accountable.
Article 124 of the Spanish Constitution stipulates that the role of the Public Prosecutor's Office is to promote the pursuit of justice in defense of legality and the rights of citizens and the public interest. Given the seriousness of the events that took place, Real Madrid has appealed to the Attorney General's Office, without prejudice to its standing as a private prosecutor in any proceedings that may be initiated."
Valencia CF wish to publicly condemn insults and attacks of all kinds in football.
The club have a firm commitment to the values of respect and sportsmanship, and reiterate our position against physical and verbal violence in stadiums. Thus, we are saddened by the events that occurred during the LaLiga Matchday 35 match against Real Madrid.
Although this is an isolated episode, insults to any opposing player have no place in football and do not fit with the values and identity of Valencia CF. The club are investigating what occurred and will take the most severe measures against the perpetrators. Valencia CF also condemn any offence and request the utmost respect for our fans.
Whilst strongly denouncing these isolated incidents, Valencia CF would like to thank the more than 46,000 fans in attendance for their support for the team.
The Spanish league has previously lodged complaints of racist chanting or insults against Vinicius Jr, the latest of which was a claim before a court in Mallorca after fans were filmed racially abusing the forward.
Spanish police are also investigating a possible hate crime against Vinicius Jr after a mannequin wearing his number 20 shirt was hung from a bridge outside Real Madrid's training ground in January.
Thank you for reading it. Leave us a comment if you liked it.
Do follow us on: Google News | Facebook | Instagram | Twitter | Youtube | LinkedIn
Have a good day ahead 🙂