Following Real Madrid's stunning 2021-22 season, where Los Blancos won La Liga as well as the Spanish Super Cup and the Champions League for record 14th time, the bar was set incredibly high for Carlo Ancelotti.
Although, Real Madrid have ended the season with three trophies, securing Copa del Rey, UEFA Super Cup and FIFA Club World Cup, yet they did not managed to match the achievements of previous campaign, finishing second in La Liga behind champions Barcelona and eliminated by Pep Guardiola's Manchester City in the UEFA Champions League semi final.
Carlo Ancelotti's men lost to Xavi's Barcelona in the final of the Spanish Super Cup, while they were beaten by Man City in the semi-finals of the Champions League. While Madrid fans lament on their underperforming season, their Copa del Rey success will serve them as an eminent memory to takeaway from this season.
The best moment of the Real Madrid's season was their four goal win over Barcelona in the second leg of Copa del Rey semi final, Barcelona were in a strong position to reach yet another Copa del Rey final when they beat Real Madrid 1-0 at Bernabeu in the first leg of their semi-final, but Ancelotti's men overcame the one goal deficit to qualify for the final. Real Madrid beat Osasuna (2-1) in the final of the Copa del Rey, making it their 20th Copa del Rey.
Without the Copa del Rey, it would have been a disappointing campaign for Real Madrid, but they managed to win the competition for the first time since 2014.
Real Madrid only made one big money signing last summer, with Aurelien Tchouameni arrived from Monaco as a replacement for Casemiro, while Antonio Rudiger came as a free agent from Chelsea.
Real Madrid started their 2022-23 campaign strongly, it started with a victory over Eintracht Frankfurt in the UEFA Super Cup, they continued their rich form with six straight league and wins and two Champions League group wins against Celtic and RB Leipzig.
Real Madrid faced their first defeat of the season against of Osasuna, but the team's form wasn't hampered as they went on to beat Barcelona 3-1 in La Liga, but RB Leipzig ended their 20 game unbeaten run with 3-2 win over thei reigning European Champions.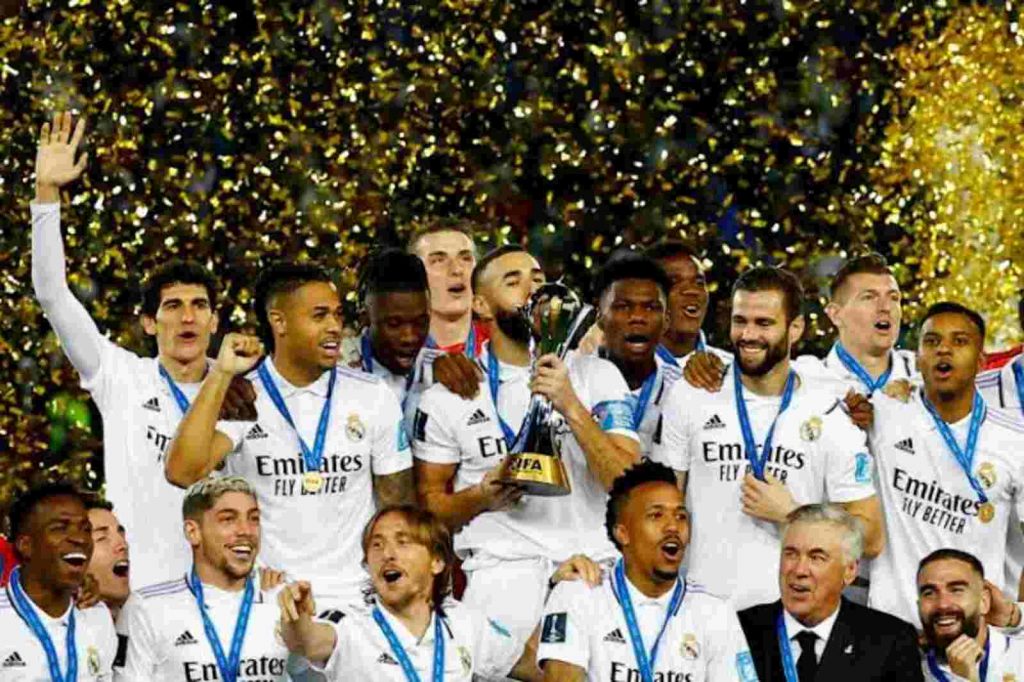 Real Madrid's form seemed to have faltered ahead of the 2022 Qatar World Cup as Barcelona moved to the top of the table ahead of the grand tournament in Qatar. Also read: Vincius Junior accuses La Liga of racism and called Spain a country of racists.
Real Madrid capped the Club World Cup with their success over Al Ahly and Al Hilal. Real Madrid's Champions League quarter final tie against Liverpool ended in a comfortable 6-2 win on aggregate, but towards the end of March, Real Madrid found their league campaign wobbling as they started facing defeats in quick succession.Real Madrid ended their campaign with a (1-1) draw against Athletic Club, thanks to Karim Benzema's penalty which ensured them the second position above Atletico Madrid. Also read: Osasuna clinched European berth on final matchday.
Following the 202-23 season, the club president Florentino Perez is expected to throw some big money in the summer transfer window, with legendary striker Karim Benzema, Eden Hazard, Mariano Diaz and Marco Asensio all set to leave the club. Also read: Karim Benzema Leaves Real Madrid After 14 Years