DreamHack is the best gaming experience where the gaming community comes to life. At DreamHack festival you come to experience professional esports tournaments, amateur and high school gaming tournaments, world-famous bring your own computer (BYOC) LAN party, cosplay, art, activities, expo, screenings, and more. This time DreamHack is coming to Melbourne, Australia. Fans around the world are so excited about the biggest esports festival in the world. So, today we are going to show you the start date and schedule of the DreamHack festival in Melbourne, Australia.
DreamHack Melbourne Start date
DreamHack Melbourne is on September 2-4 which means the festival is almost upon us. In less than two weeks, some of the best esports players in the world will descend on Melbourne and Olympic parks in Australia. It is indeed the biggest esports festival which features esports tournaments for everyone from amateurs to global pro teams. Apart from this, plenty of fun activities are available for fans too.
DreamHack Melbourne Schedule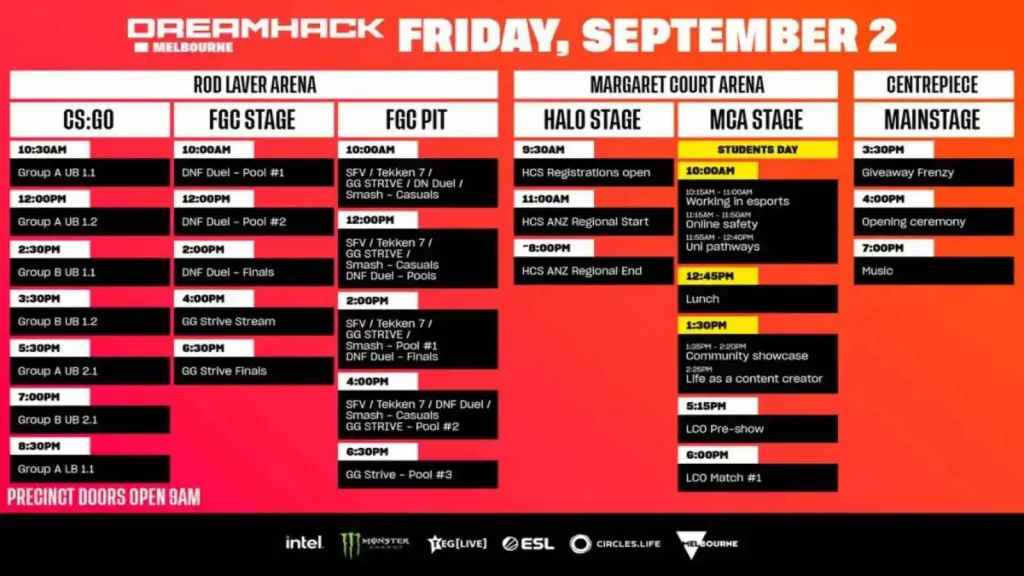 DreamHack Melbourne has announced the full schedule with tons of super cool activities and events. Live music will be happening each night as well which will be a treat for the fans. Melbourne and Olympic parks will be transformed into a gaming hub during the whole event. Moreover, CS:GO, fighting game communities, and Halo will feature on all three days in the famous tennis arenas. Friday will include a student's day with talks on working in the esports community, being a content creator, and online safety, etc.
Also Read: Top 5 Best Crossplay Games in 2022 to play
The Mainstage is the hub for the DreamHack Melbourne festival. Here in Mainstage, there will be lots of giveaways, the opening ceremony, panels, and more. On Friday and Saturday nights, after games, the Mainstage will be transformed into a music festival for the fans. This year's headliner is DJ Paris Lawrence, an Australian hip-hop DJ, who is ready to welcome the gaming community in Australia. According to Paris Lawrence, she is excited to connect with the gaming community. Paris along with other DJs will be entertaining gamers throughout the night.
Also Read: Top 5 Best Mobile Games in the World in 2022
Tickets for the festival are still available. You can buy your DreamHack Melbourne festival tickets here.
For More news related to the games and esports, keep checking The SportsLite