Like many other popular star kids, Sara Tendulkar also relishes massive popularity on social media. However, what seemingly distinguishes Sara from others is her down-to-earth nature. In the recent past, Sara's relationship rumours also surfaced the internet. It so happened that both of them often leave a comment or like on each other's social media posts often which goes viral as soon as the eagle-eyed fans notice it. However, both of them never publically commented on the same. Lately, the rumour mills are ripped with the news of their breakup. The reason being the Shubman's "Dinner Date" with Anjini Dhawan. On the other hand, the rumour of Sara Tendulkar dating Siddharth Kerkar has also spread like a wildfire and netizens can't stop reacting to it.
Who is Siddharth Kerkar?
Sara Tendulkar's rumoured boyfriend Siddharth Kerkar descends from a family of artists. Siddharth hails from a rich Goan family. His father, Dr Subodh Kerkar, owns the Museum of Goa, a private contemporary art space. Most of the high profile and red-letter events of Goa take place in the "Museum of Goa" itself. Siddharth also runs an art page on Instagram by the username @artsiddharth.
Also Read: Sara Tendulkar Shubman Gill breakup? Star India Player spotted with another girl on Dinner Date
Sara-Siddharth Linkup – Is Sara Tendulkar Really Dating Siddharth Kerkar?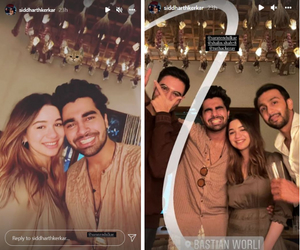 Siddharth and Sara are ofttimes spotted together. On October 12, 2021, Sara celebrated her 24th birthday. In an intimate Birthday bash in London, Sara was accompanied only by her close friends, and notably, Siddharth Kerkar was among them. A few days after touching down in India, Sara was seen getting off from an exotic restaurant in Mumbai. Meanwhile, the young sensation Sara wasn't alone, she was accompanied by one of her friends. And he was none other than Siddharth Kerkar. Lately, Sara is spending her time in Goa and Siddharth often shots Sara Tendulkar and shares her pictures and videos on his Instagram stories. However, the bottom line of the entire news is just the fact that netizens not only stumble upon Sara's ravishing looks but also spread rumours without substantiation.
Also Read: Sara Tendulkar commits a big offence Publicly  – Artist Siddharth Kerkar asks when he spotted Sara sitting in public
After all, is said and done, it can be categorically stated that upon consideration, all these rumours fanned out by the netizens are neither confirmed nor denied by us. Also, none among Sara and Siddharth have commented on it and are yet to make any public statement.