"He said 'Ek Karega?' Ishant Sharma said 'ha karunga' ", the commentary by Harsha Bhogale, over the years, still epitomizes the temperament of Ishant Sharma, a hardworking and dedicated fast bowler.
Not long ago, he was the bowler who had bowled long economic spells without the rewards and unfortunately been the target of critics. Though he had never shied away from that role and now those days are paying dividends to Ishant.   
Nowadays, we see different Ishant Sharma, more mature, fitter, and more lethal. There has never been the temperamental issue about Ishant, some tweaks in the action and bowling technique have helped him immensely.
He is the only fast bowler to play 100 Tests for India after the great Kapil Dev.
Ishant Sharma's early career in test cricket
In the first few years, Ishant Sharma had the ability to bowl fast. The famous spell to Ponting is a great example of it. He was just 19 years old back then, so he was far from a completely developed cricketer. As the career progressed, many experts started to find some errors in the action. The dropping of the head reduced the pace and with the erratic wrist position the swing became a rare entity. Obviously, it diminished the wicket-taking abilities, and captains were compelled to use him to hold the one end up.
Till 2014, after playing Tests for almost 8 years, he had only 2 match-winning efforts, one in West Indies of 6/55 and in historical glory at Lord's in 2014 of 7/74.
Unfortunately, Ishant Sharma never had an extended partnership with any other bowler. Since Ishant's debut, except  Zaheer Khan, no fast bowler could consistently make the playing XI. Zaheer became injury-prone in the last years of his career, which added extra pressure on Ishant to deliver. All these factors were adversely affecting his numbers. 
Intriguingly, despite having a higher average, he never lost his position in the Indian setup. He became the workhorse of the Indian side.
Numbers of workhorse


The image shows Ishant's stats since his debut till 2014.
Another contributing factor is MS Dhoni's captaincy. In the overseas Tests, many times India had been in a situation where they had to have defensive strategies. Okay, India never had the luxury of hostile fast bowlers back then, which made MS be on the defensive tactics.  
The poor numbers weren't just Ishant's fault, but it was a resultant effect of all the factors.   
Also Read: [Sports updates in 50 words]: PM Modi congratulates Olympic Gold Medalist Neeraj Chopra over call
Ishant brings improvement in his performance
Ishant Sharma arduously worked towards the improvement and rectified the technical issues that he had. The better and consistent wrist position is now helping him to swing the bowl both ways. The ball which comes into the left-handers and quickly goes away after pitching has become the nemesis of many lefties. The same ball to right-handers has been trapping them between the wickets. 
Fitness has played a vital role in maintaining the pace.
While doing all the improvements, he has never compromised with accuracy. This accuracy and niggardly bowling has helped Bumrah, Shami, Ashwin, and Jadeja to take wickets at the other end. 
The improved Ishant through numbers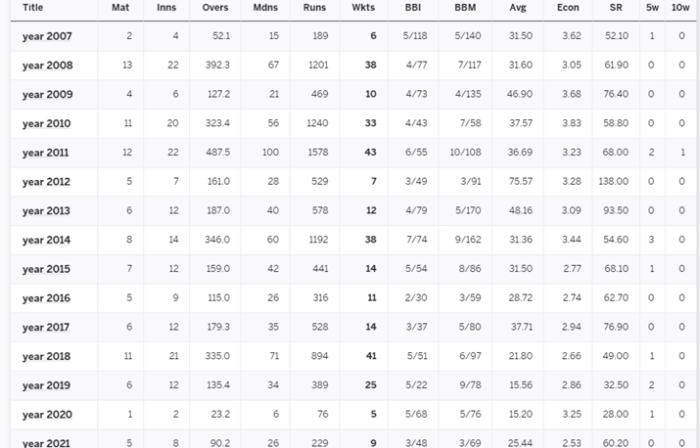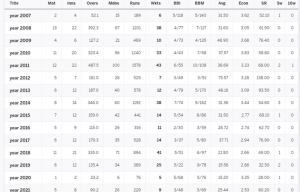 Now if you look at the stats since 2014, there has been a lot of improvement.
The average of averages till 2014 is 42.41 and since 2015 is 24.71. The latter number is almost half of the first number. That speaks volumes.
India has had an excellent run in the inaugural WTC. Ishant played a crucial role in it.  In 12 WTC matches, he has 39 scalps with an average of 17.79. In terms of average, this is his best performance so far.
A strike rate could be a deceiving thing. Ishant's strike rate has been on the higher side, but remember that even after becoming a prime bowler, he still plays a second fiddle most of the time.   
Ishant Sharma blossomed under Kohli captaincy 
As discussed earlier, MS Dhoni had never been blessed with a fast bowling attack who could intimidate the opposition and could take 20 wickets. It forced Dhoni to be on a defensive play. The defensive tactics led Ishant to lesser wickets and more average.
Kohli has been lucky to have a world-class fast bowling quartet, they understand each other and compensate each other. Hence Kohli could afford to be more on the face of the opponent, attacking field and attacking mindset rendered in victories and great outcomes for the bowlers. 
| | | | | | | | | | |
| --- | --- | --- | --- | --- | --- | --- | --- | --- | --- |
| Captain | Matches | Wickets | Average | Economy | Strike Rate | BBI | BBM | 5WI | 10WM |
| MS Dhoni | 47 | 152 | 36.65 | 3.37 | 65.10 | 7/74 | 10/108 | 5 | 1 |
| Virat Kohli | 41 | 116 | 25.46 | 2.76 | 55.10 | 5/22 | 9/78 | 5 | 0 |
Ishant is now the most reliable Indian test player
Ishant, despite having a tall structure, good pace, and accuracy, never had a successful run in away conditions. But the Ishnat 2.0 has been utilizing the experience from his previous away tours and now we see much more proficient Ishant in overseas conditions.
Look at the Ishant's record in away Tests before 2015 and after 2015
| | | | | | | |
| --- | --- | --- | --- | --- | --- | --- |
| Period | Matches | Wickets | Average | Strike Rate | Economy | Best Figures |
| Before 2015 | 39 | 125 | 39.2 | 66.7 | 3.52 | 7/74 |
| After 2015 | 20 | 69 | 22.71 | 48.1 | 2.83 | 5/47 |
Final verdict on Ishant Sharma
The numbers are a testimonial to the fact that Ishant Sharma has become a better version of himself,  he has been in his elements and his stocks have been on the upper side.
The emergence of fast bowling partners like Bumrah, Shami, Umesh has also played a part in the betterment of Ishant's numbers.
He is the 6th highest wicket-taker in Tests for India with 306 wickets.
There is a lot of cricket remaining in Ishant's career and hopes he will reach new heights and help India to get their hands on the prestigious mace of the World Test Champions. 
Also read: Possible Destinations Of Lionel Messi As His Next Club Ahead Of The New 2021-22 Season