A Victory that is still resonating after almost 20 years, Saurav Ganguly and his memorable incident
It was a NatWest Final at Lord's between England and India. The Indian side was pretty much new to international cricket, especially if compared to England's side. No one said it would be a one-sided match, but no one actually gave any chance to India. The memorable day when Saurav Ganguly removed his T-Shirt against the English Team. 
Dominating England
Marcus Trescothick 109(100) and skipper Nasser Hussain 115(128), set the game for England and they scored 326/5 in 50 overs. This was the era before the T-20s, so the target of course was overwhelming.
India was at 106 when the first wicket fell. It triggered the fall of the next 4 wickets and in just 6.3 overs, India from 106/0, in absolutely no time, found themselves at 146/5. England felt the game was done, so did the Indian fans.
Dramatic finish to the game and euphoric start to the youngster's careers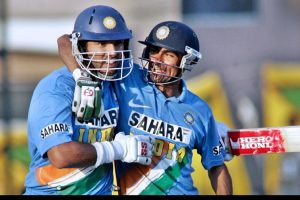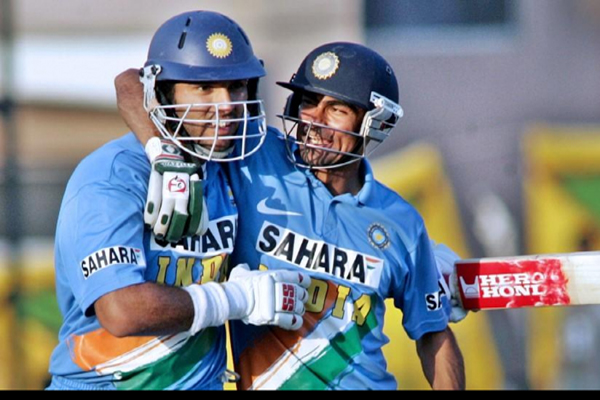 Yuvraj Singh and Mohammad Kaif, the two youngsters, probably had nothing to lose, they gave everything they had and shared 121 runs partnership in just 17.4 overs. Yuvraj couldn't finish the game, scoring 69(63) with 9 fours and 1 sixes.  
There was the twist in the tail, a quick two wickets, and India was 8 down for 314, still 13 short of victory. But Zaheer Khan however faced 7 balls and scored 4. The 2 out of 4 actually were the winning runs. Kaif scored unbeaten 87(75) with 6 fours and 2 sixes. India won by 2 wickets with 3 balls remaining. Kaif had been awarded Player of The Match.
We all know how Dada (Saurav Ganguly)celebrated at the Lord's balcony after the victory.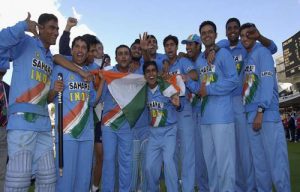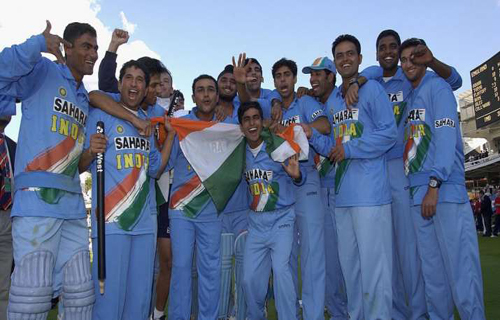 A forever regret
The intriguing thing actually happened in India. Watching the Indian team collapse, a couple decided to go for a movie and when they came out of the movie, everyone was congratulating them. Why?
The surprising answer is, they were Mohammad Kaif's parents! They would be still regretting their decision as they missed the game when their son played an innings of his entire career.
Also Read: Chris Gayle batting in T20: Let's have a look at why Chris Gayle is The Universe Boss
India's debut in One Day International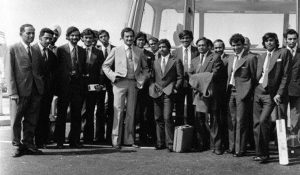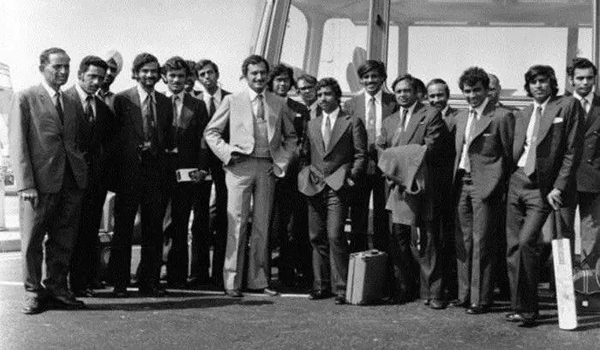 Today, on 13th July 1974, India played their first One Day International. The game was at Leeds against England.  
Back then, the ODI used to be 60 overs on each side. But due to some reasons, it was 55 overs per innings. Till 1992 WC, for ODIs the red ball and white clothes were being used. After the 1992 WC, cricket started to use two different balls in Tests and ODIs. So this game was also played with a red ball.
India batting first, bowled out for 265 runs in 53.3 overs. Captain Ajit Wadekar scored 67 and Brijesh Patel 82(78). Host England chased it comfortably in 51.1 overs with four wickets remaining.
We all know how India has been successful in ODIs, especially after the 1983 WC. On the 13th of July 1974, it all started.