The 40-year-old Swiss sensation with a tall figure and many tennis records also has interesting facts. Roger holds 20 Grand Slam titles tieing with Novak Djokovic and is one of the greatest in the open era. It will be pretty fascinating to know 10 interesting facts about Roger Federer. Let's check them:
10 Interesting Facts about Roger Federer
1. Swiss-African
Roger Federer was born on 8 August 1981 to Robert Federer and Lynette Federer. His father Robert Federer is Swiss, and his mother Lynette Federer is a South African. His birthplace is Basel, Switzerland but he was raised near the French-German borders. He also has an older sister, Diana Federer. Roger has dual nationality, that is, South African and Swiss.
2. 2006: A Golden Year
Federer, in 2006, won 12 Singles titles with a match record of 92-5. He advanced to 16 finals of 17 tournaments played in 2006, which is some of a record.
3. Stack of awards
Roger Federer has won a lot of awards in his career. He has won ATPWorldTour.com Fan's Favourite Award for consecutive 18 times from the year 2003 to 2020. Followed by, Stefan Edberg Sportsmanship Award a record 13 times (2004–09, 2011–17). He also won the Arthur Ashe Humanitarian of the Year Award twice in the year 2006 and 2013, the Laureus World Sportsman of the Year, five times from 2005 to 2008 and the year 2018. Roger won once the Laureus World Comeback of the Year in 2017.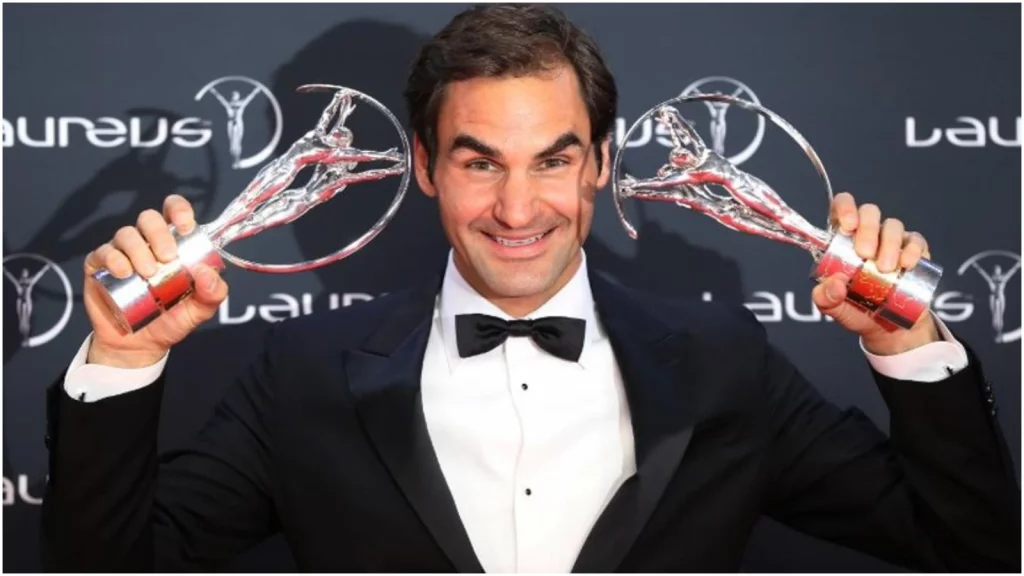 He did achieve another precious milestone by winning the BBC Overseas Sports Personality of the Year Award four times, he is the only individual to do so.
4. Roger Federer on Postal Stamp and Swiss Coin
In 2007, the Swiss Post in Basel, Switzerland released a special edition stamp for Federer. He was the first living Swiss person to be featured on a Swiss stamp. The picture on the stamp was of his holding the first Wimbledon trophy. Later, in 2010, Roger Federer was awarded a special edition stamp by Austria's Postal Service.
In December 2019, Federer became the first living person to be the face of Swiss coins. In May 2020, his face was on the 20-franc coin and Swissmint issued a Federer 50-franc gold coin featuring a different design. A 20-franc coin is valued at $381 dollars ( as of 2022).
5. Roger-Federer-Alle
In appreciation of Roger's success on the grass at the Gerry Weber Open lead the city of Halle, Germany established a street named a "Roger-Federer-Alle".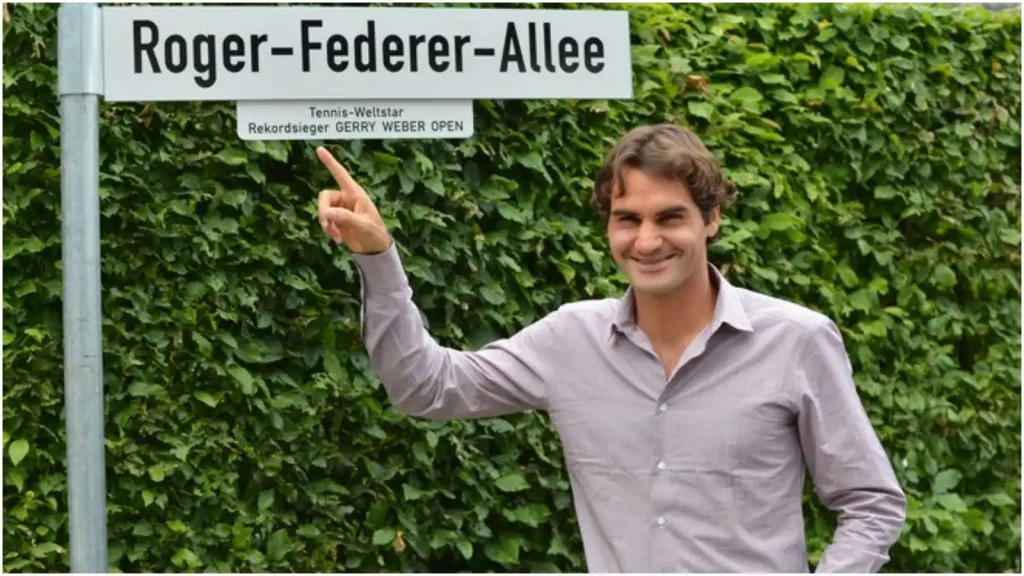 In 2016, Roger's home country has also named a street "1 Allée Roger Federer". The street is located in the city of Basel, Switzerland, the location of the national centre for Swiss Tennis. This is the place where Federer trained as a junior.
6. Roger with Juliette
After winning his first Wimbledon title in 2003, Roger Federer was gifted a cow named "Juliette". The cow was gifted to him while his post-presentation on the court. No player was ever gifted such a present for winning any Grand Slam, especially Wimbledon.
7. Father of double twins
Roger Federer married former WTA player, Mirka Federer in 2009. They gave birth to their first girl twins in 2009 named Myla Rose Federer and Charlene Riva Federer. In 2014, he again became the father of twins boy, Leo Federer and Lenny Federer.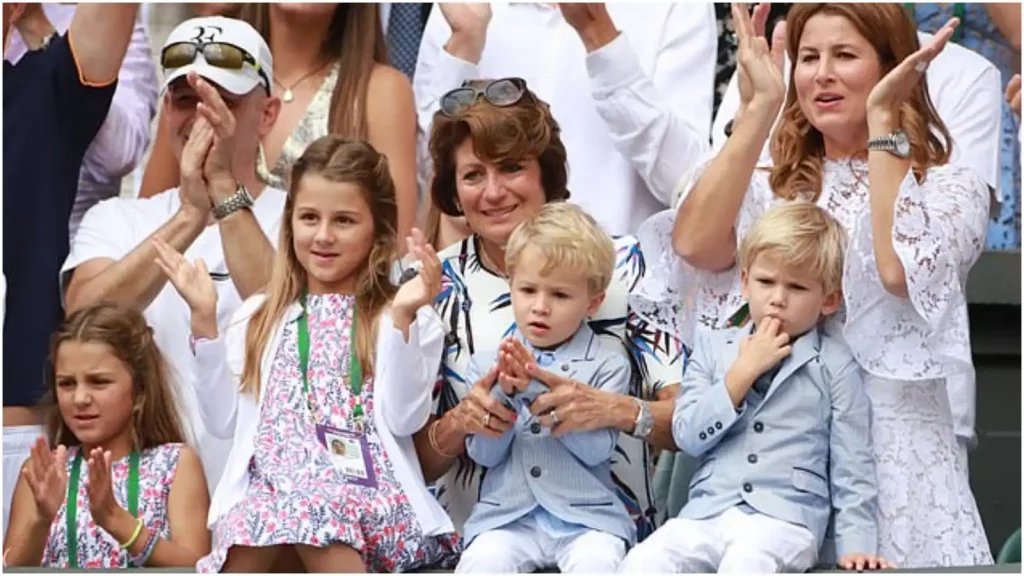 8. Vegan
Roger Federer was vegan till the age of 14. But after that, he found great interest and taste in non-vegetarian food. He is also a great cook, far more perfect for cooking skills. Roger is a very big fan of pasta and he knows well how to cook it with perfection as his favourite pasta dish is Spaghetti Napoletana.
9. Started with a ponytail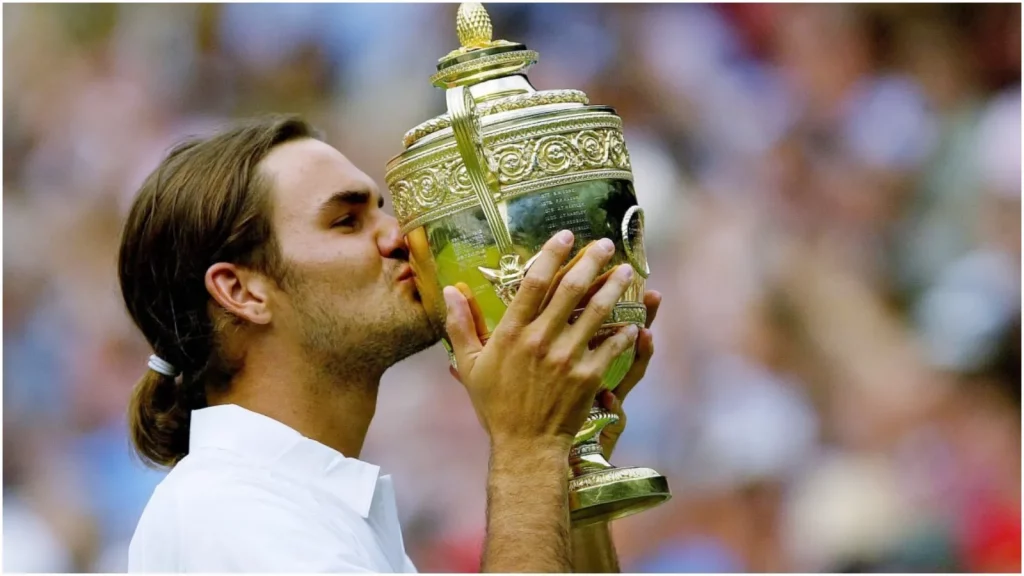 Roger Federer started his tennis professional career with a ponytail on his head. His style was different from other players. Roger won both Boys' and singles titles during that period of time. He was the Junior Wimbledon champion in 1998 along with 4 ITF Junior Singles tournaments. He changed his hairstyle at the age of 22. Roger used to sometimes let his hair downwards and other times used to be seen in headbands. After his 2004 US Open victory, the ponytail disappeared and his hair got a little trimmed and short.
10. Richie Rich!
Federer is extremely strong with money. In May 2020, Roger became the first tennis player to top Forbe's list of the world's highest-paid athletes, with $106.3 million in total earnings from salary, winnings and endorsements.
He is the 2nd-all-time leader in earnings with US$ 130,594,339. He has been appearing since 2012 in the top-10 of Forbe's list, as of 2021. Roger's current endorsements ( as of 2022) are Japanese clothing company Uniqlo, Swiss companies Nationale Suisse, Rolex and many more.
Roger also is into charity work. He recently went to Malawai.
Also read: Novak Djokovic becomes the 5th player to register the 1000th win in tennis History
Have a great day ahead!