Quinn Hughes, who was recently named captain of the Vancouver Canucks, has inspired a new flavor at Glory Juice named after his jersey number #43.
At the Glory Juice location in the Olympic Village, Hughes actively participated in the creation of his own cold-pressed juice and smoothie flavors. He approached the process with great care, collaborating with the experts at Glory Juice to meticulously select ingredients that catered to both his personal taste preferences and offered health benefits.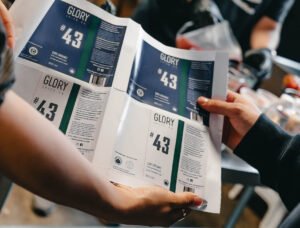 The #43 juice contains a blend of blueberry, strawberry, raspberry, ginger, banana, celery, apple, cucumber, coconut water, and lime. Meanwhile, the #43 smoothie features Glory almond milk, Glory nut butter, banana, raw cacao, hemp hearts, flax, and protein powder. You can find both the #43 juice and the #43 smoothie at Glory Juice this upcoming autumn.
Also Read: Young Stars Classic 2023: Teams, Schedule, Roster and More
In an interview with Daily Hive, Hughes said, "Glory Juice is just a brand that I like and we use their stuff at the rink, it's always in the fridge. I just want to make a drink that I like and that people might like and enjoy, and also take it seriously because it's for Glory… They're taking their time to do this for me, so I want to make sure I'm doing the same for them."
"I've learned that energy is everything for me. When I feel good out there, I feel like I can do what I want," Hughes said. "When I don't feel good, I have to pick my spots. Just trying to, from playing 82 games, trying to feel as good as I can for all those games. I want to make a drink that I know I'm going to enjoy but also something that I can feel confident about."