Leclerc, the second-placed driver at the FIA 2021-22 World Championships, has announced that he and his longtime girlfriend have called off their relationship. Charles Leclerc and Charlotte Sine both posted breakup notes on their social media handle.
The note said," Hello everyone, Charlotte and I have decided to end our relationship and we remain good friends. We have shared so many great moments and she is and always will be a very special person to me. She is amazing and deserves the best, please respect our decision and her privacy in a time like this."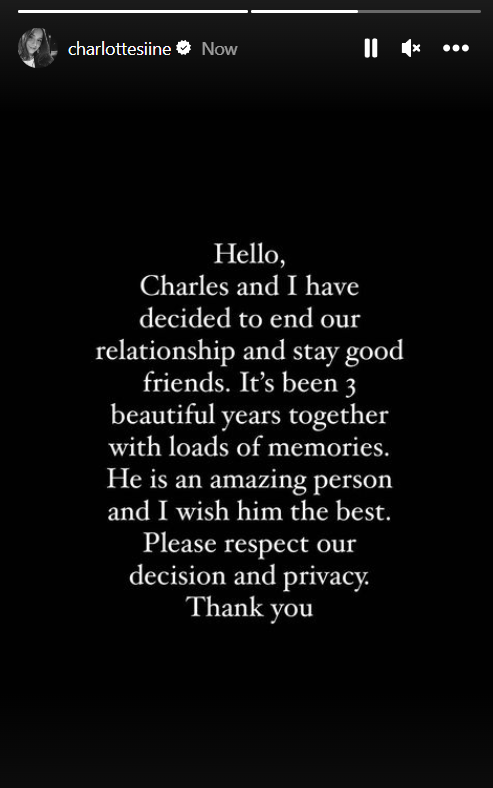 Charlotte posted a similar text on her Instagram feed. "Charles and I have decided to end our relationship and stay good friends. It's been 3 beautiful years together with loads of memories. He is an amazing person and I wish him the best."
Charles Leclerc and Charlotte Sine met through a mutual friend and ex-girlfriend of the latter: Giada Gianni. The young Monacan racer dated the Italian bombshell for four years. Their relationship went to a mark of engagement. However, they broke up. A short while later, Giada announced that Charles left her as he wishes to devote himself to Ferrari.
Charlotte Sine is an architect who owns a shoe company. In addition, she boasts 170K followers on her Instagram handle. The Monegasque is also the heir to Monaco's oldest and most renowned company, Société des Bains de Mer.
The reasons for the breakup remain unknown. As we know, dating an F1 driver takes a toll on both parties. A Formula One schedule is more rigid than it actually seems. It might be the lengthy calendar that drew the lovesick couple apart. The driver's Instagram feed is devoid of any pictures together. However, we can spot some good images in Sine's account.
Read about Charles and his girlfriend's summer break fun at Bonifacio
Thank you for reading it. Leave us a comment if you liked it.
Do follow us on: Google News | Facebook | Instagram | Twitter | Youtube | LinkedIn
Have a good day ahead 🙂