Telugu Titians broke the streak of 10 winless matches by winning the match 65 against Jaipur Pink Panthers played at Sheraton Grand Whitefield in Bengaluru on Wednesday. Despite the loss, with 32 points, 5 loses and 1 draw Jaipur Pink Panther stands 5th on the list. Arjun Deshwal completed his Super 10 in this match and Adarsh ​​​T played all round against the Titans with a total of 9 points. Telugu Titans' Surender Singh was the player with the most points in the match. Adarsh ​​and Rajnish together recorded 16 raid points. The game ended with a score of 35-34 and The Telugu Titans Won Their First Victory Over The Jaipur Pink Panther In A Rip-Roaring Match. Let's go through the post-match preview of Telugu Titans VS Jaipur Pink Panthers to know more.
Also Read : Best Defenders in Pro Kabaddi League
Telugu Titans VS Jaipur Pink Panthers: First Half
The titans tried to play aggressively from the beginning of the game and tried to take lead in the first half. But to their disappointment, they endured setbacks, The first half of the game ended with a score of 20-13. Deepak Hooda's two-point raid, followed by Sandeep Dhull's outstanding Ankle Hold on Rajnish, gave the Pink Panthers a three-point advantage. Amit, Deshwal, and Sahul Kumar scored four unanswered points for their team. Rakesh Gowda's two-point raid brought the All Out to a halt, but another touchpoint from Deshwal made the Titans solitary again. Gowda got a bonus again before Dhull caught him, and helped the Pink Panthers take the first 16-8 lead. Telugu Titans managed to take the lead slightly and by the first half, Jaipur Pink Panther were at the advantage of 7 points.
Telugu Titans VS Jaipur Pink Panthers: Second Half
In the second half, the Titans performed brilliantly in raids along with defense, and scored an equalizer on the mat. The Titans opened the second period with two unanswered points from Rajnish and Surinder Singh. Adarsh ran in to raid and was met with a hard block, but he powered past it while tagging the other two defenders on his way to the midline for a five-point Super Raid that tied the game at 20-20. The Panthers led by one point with five minutes remaining in the game. Adarsh completed two good tackles in a row to give Telugu a one-point lead.
Deepak, on the other hand, got one with a bonus, putting the Panthers up by one point once more. Darshan, on the other hand, removed Cheralathan, and Telugu made Jaipur all out by attacking Deepak. Therefore The Telugu Titans Won Their First Victory Over The Jaipur Pink Panther In A Rip-Roaring Match
Top performers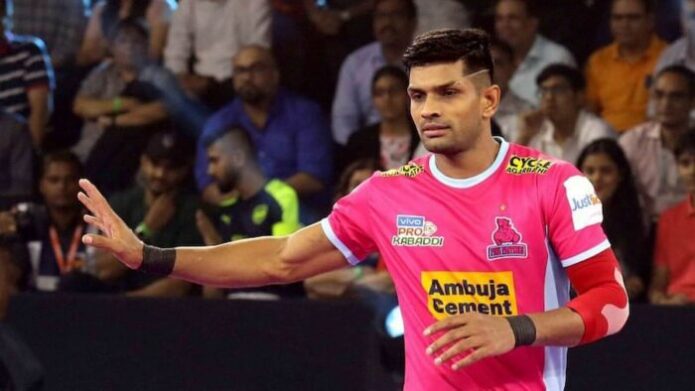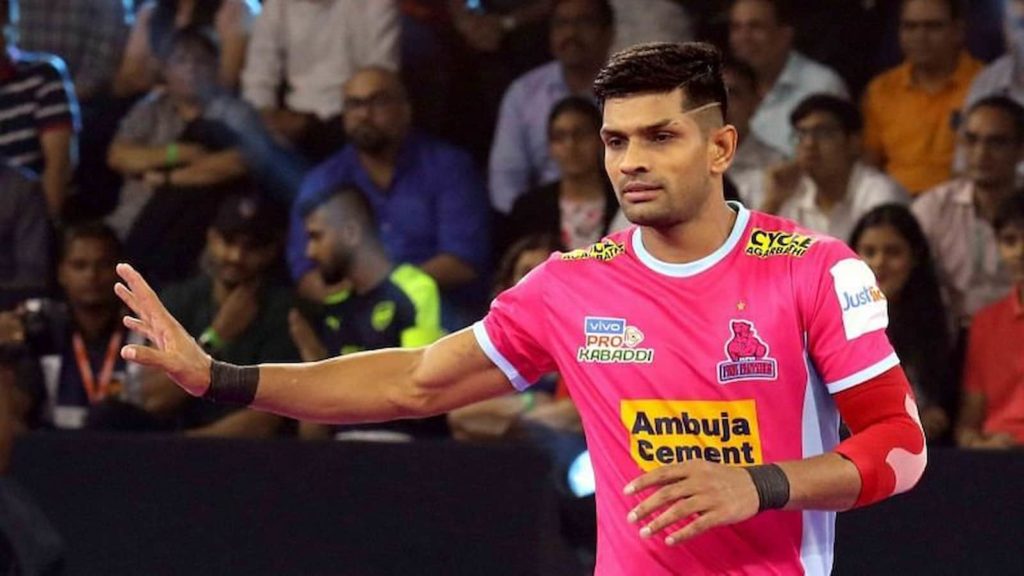 Jaipur Pink Panther
Top Raider: Arjun Deshwal (13 points)
Top Defender: Vishal (4 points)
All Rounder: Deepak Hooda (8 points)
Telugu Titans
Top Raider: Rajnish (7 points)
Top Defender: Adarsh T (9 points)