Being a fast bowler is not easy. Fast bowlers put in a lot of time in the gym, but they are the most prone to injury because of their workload. Shoaib Akhtar, one of the world's fastest bowlers, famously said that being a fast bowler requires being insane. It's a gruelling and exhausting task, but the sight of the stumps shaking is a welcome sight. In this post, we'll look at the top 5 fastest balls bowled in International cricket history.
Let's have a look at Top 5 fastest balls bowled in International cricket history:
5. Mitch Starc – 160.4 km/h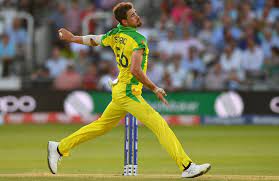 In 2015, Michel strac, the left-arm paceman, assisted Australia in winning the World Cup. Since his debut in 2010, he has taken 244 Test wickets, 178 ODI wickets, and 43 T20I wickets. He recorded his quickest delivery at 160.4 km/h, putting him in fifth place.
Also Read: Top Five players to hit most sixes in T20 World Cup
4. Jeff Thomson – 160.6 km/h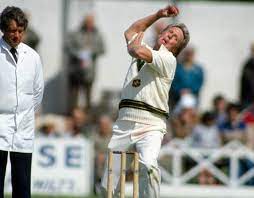 Jeff Thomas is a cricketing legend from Australia. He got 200 Test wickets and 55 ODI wickets between 1972 and 1985. He also played first-class cricket, where he collected 675 wickets. Thomson was inducted into the Australian Cricket Board's Hall of Fame in 2016. The speed gun read 160.6 km/h for Thomson. As a result of this delivery, he is in the fourth position.
3. Shaun Tait – 161.1 km/h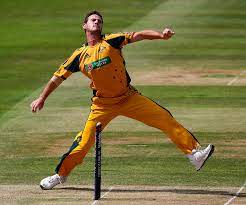 one more Australian appears in the third position. Against England, Tait bowled his fastest delivery of 161.1km/h. Tait is most recognised for his One-Day International (ODI) achievements, taking 62 wickets in his active ODI career. 
Also Read: Top Three T20 World Cup teams based on Brand Value
2. Brett Lee – 161.1 km/h
One more Aussie has joined the roster of Australians. Former Australia fast bowler Brett Lee was a pain in many batsmen's sides, capturing 310 Test, 280 ODI, and 487 first-class wickets. He was instrumental in Australia's World Cup victories in 2003 and 2007. His fastest delivery of 161.1km/h (100.1 mph) occurred in 2005 against New Zealand in Napier, putting him in the second spot.
1. Shoaib Akhtar- 161.3 km/h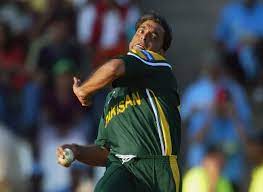 Akhtar is widely considered the quickest bowler in cricket history. During the 2003 World Cup, he established an official record holder by bowling the quickest delivery of 161.3km/h against England. And this puts him on the top of the position.
Also Read: Top Five players to hit most sixes in T20 World Cup
List of Top 5 fastest balls bowled in International cricket history:
| | | | |
| --- | --- | --- | --- |
| Rank | Player | Speed | Opponent |
| 5 | Mitch Starc | 160.4 km/h | New Zealand, 2015 |
| 4 | Jeff Thomson | 160.6 km/h | West Indies, 1975 |
| 3 | Shaun Tait | 161.1 km/h | England, 2010 |
| 2 | Brett Lee | 161.1 km/h | New Zealand, 2005 |
| 1 | Shoaib Akhtar | 161.3 km/h | England, 2003 |