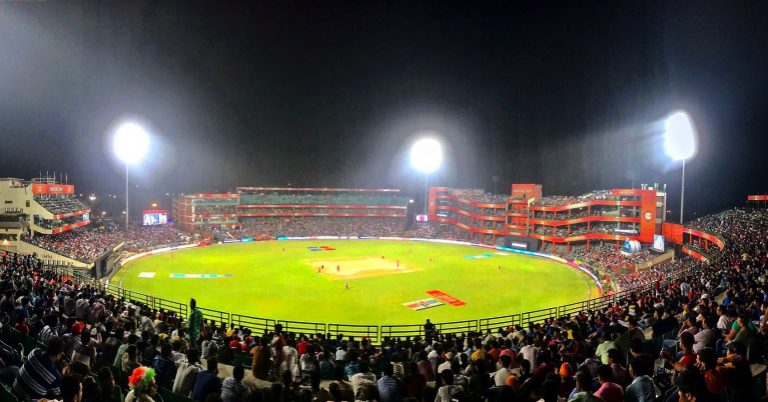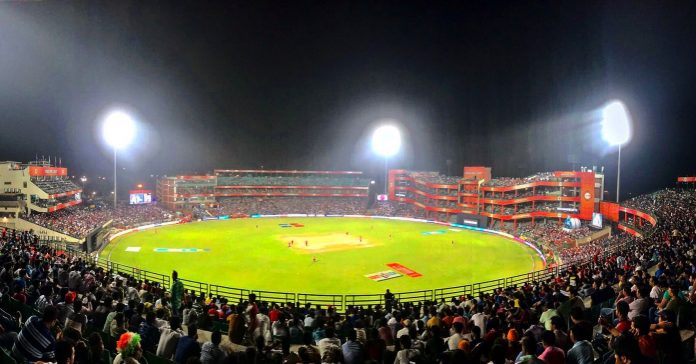 The Arun Jaitley Stadium, previously known as the Feroz Shah Kotla, is the second oldest stadium in India. Owned by the Delhi & District Cricket Association, it was built in 1883 near the Kotla Fort, Bahadur Shah Zafar Marg, New Delhi. Until 2016, the Indian national cricket team remained unbeaten in Test matches for almost 28 years and in ODI matches for over ten years at this venue. The stadium has been witness to many great moments with the most notable being Anil Kumble's 10-wicket haul against Pakistan. The Stadium is also famously known for other reasons like Virat Kohli Pavilion and Gautam Gambhir Stand. So let's have a look at Arun Jaitley Stadium (Feroz Shah Kotla) Seating Capacity, Size, Boundary length, Location, Pitch Report, Horror Story, and History
Arun Jaitley Stadium (Feroz Shah Kotla) Seating Capacity
The current seating capacity of the Arun Jaitley Stadium after its renovation is limited to 41,842 seats. However, the initial structure built during its founding in 1883 could house over 55,000 spectators. It is an active stadium and matches are conducted on several occasions. Recently, India and Australia played their 3rd Test match of the Border Gavaskar Trophy 2022-23 at this venue. Also Read: Eden Gardens Stadium Seating Capacity, Location, Size, Boundary Length, Pitch Details and Inaugration Date
Arun Jaitley Stadium (Feroz Shah Kotla) Boundary Length
In terms of ground size, this stadium in Delhi is one of the smallest international cricket grounds. The straight boundary is 60 meters long and the square boundary is 56 meters long. Although it houses over 40,000 spectators, its playing area is small which makes it a haven for big scores.
Arun Jaitley Stadium (Feroz Shah Kotla) Pitch Report
The Delhi pitch is sluggish, thus during the power-play, skippers normally hand the ball to one of the spinners. Spinners play an important role throughout the innings, while pacers take the majority of wickets in the last overs. During the IPL, the average first innings total at Arun Jaitley Feroz Shah Kotla Stadium is 156. Often scores around 140-170 are scored at his venue and during the IPL 2023, the team batting first felt a few runs short as they are on the losing side.
Feroz Shah Kotla Horror Story
Adjacent to the Arun Jaitley Stadium lies the Feroz Shah Kotla Fort after which the stadium was initially named. The Gigantic structure which lies in close proximity to the stadium is known to be a very haunting place. After sunset, the fort is reported to have a strong influence on Djinns, spirits, and ghosts who roam the area. Many people have reported hearing screams coming from the graves, and visitors have claimed to have been smacked by unseen hands. Many people have also been followed by weird gusts of wind that sweep through the Feroz Shah Kotla Fort.
Arun Jaitley Stadium (Feroz Shah Kotla) History
The first Test match at this ground occurred between India and the West Indies on November 10, 1948. The stadium is owned by the DDCA (Delhi District Cricket Association) which runs the facility. It has been the home ground of the Delhi Capitals (Delhi Daredevils) in the Indian Premier League since 2008. On the 27th of August 2019, the stadium would be named the Arun Jaitley Stadium. This was in tribute to its former DDCA president Arun Jaitley who passed away the same year. On the same day, one of the stadium's stands was named after then Indian captain Virat Kohli as the Virat Kohli Stand.
Do You want to get Dream11 Fantasy Tips Daily? Join our Cricket Fantasy Tips Telegram Channel
Do follow us on: Google News | Facebook | Instagram | Twitter | Youtube | LinkedIn
Have a good day ahead 🙂