The 40-year-old Serena Jameka Williams of America is one of the greatest players of all time, especially her influence on tennis. She has been a professional tennis player for 25 years, she cut off her career by announcing her retirement at the U.S Open 2022. Serena has achieved an enormous amount of fame, success and pride as a "Black American woman", she inspired many athletes and ordinary women and men throughout her journey.
Serena Williams Major Achievements
Williams dominated for six consecutive years as World No. 1
Serena Williams ranked World No. 1 for the first time on July 8, 2002, at the age of 20. She stuck to her rank for 319 weeks in her career of which she recorded 186 consecutive weeks for the same. Williams was one of the most dominating players during her early professional career. Serena was already a one-time Grand Slam champion before becoming the World No. 1.
After becoming World No. 1 for the first time, she won the 2002 Wimbledon for the first time defeating her sister, Venus Williams in straight sets. However, she achieved this title without a set drop in the whole tournament.
Quadruplet Gold medalist at the Olympics, three of them along with sister Venus
Williams debuted in the Olympics in 2000 representing the USA, held in Sydney, where she paired up with her elder sister, Venus. The Williams Sisters banged their first Olympics Gold medal in the Women's Doubles category. After that, she could not win a medal in the 2004 Athens Olympics, however, Serena returned in the 2008 Beijing where again the Williams sisters banged Gold in the doubles. Unfortunately, Serena ended 5th in the Singles run in the same year.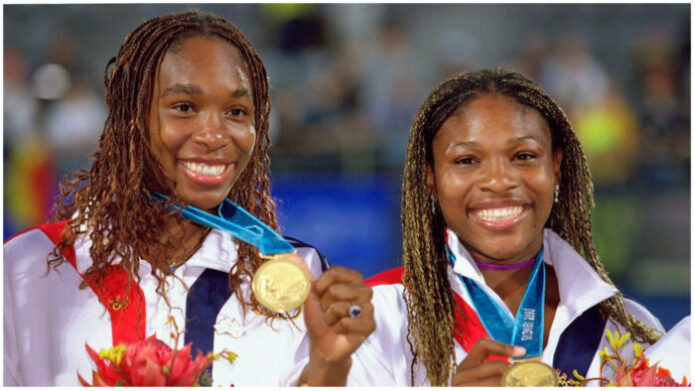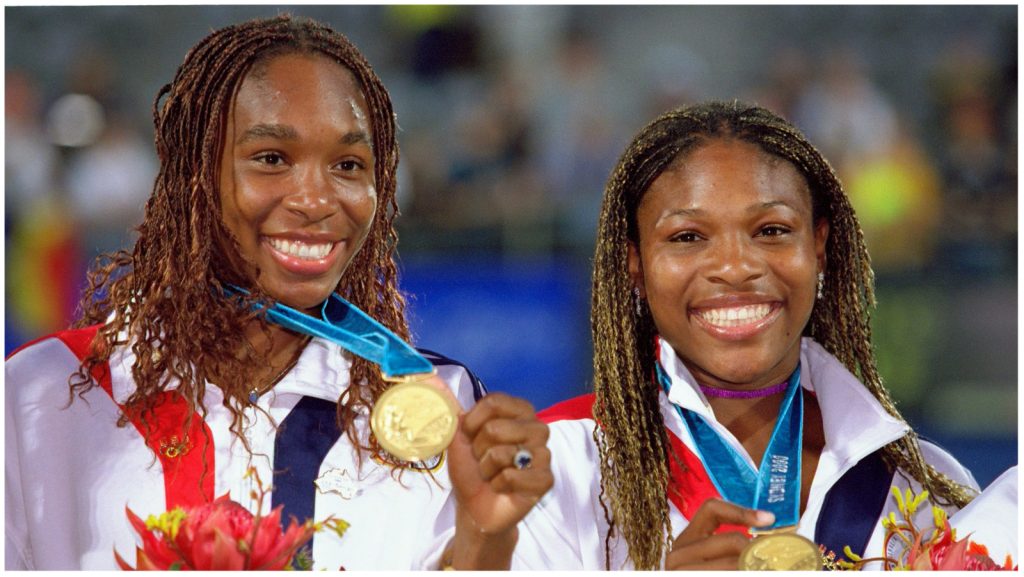 The 2012 London Olympics was the "golden year" as she achieved two Gold medals, in both singles and doubles, yet again with Venus.
Highest-earning woman athlete of all time
The American leads the tally of most prize-money earners with US$94,618,080 of all time with a larger margin than her sister, Venus Williams (2nd with US$42,312,453). The list consists of big names, such as Simona Halep, who entered the list recently after a brilliant few months. Also, as Maria Sharapova, Carolina Wozniacki, Victoria Azarenka and many more.
She also records being the first of all women to earn the most prize money in a single year in 2013 with US$12,285,572. Thereafter, follows Ashleigh Barty with almost US$1 million difference standing at 2nd position. Serena Williams lists herself six times with the most prize money in a year in the top 15.
| | |
| --- | --- |
| YEAR | PRIZE MONEY |
| 2013 | US$12,385,572 |
| 2015 | US$10,582,642 |
| 2014 | US$9,317,298 |
| 2016 | US$7,675,030 |
| 2012 | US$7,045,975 |
| 2009 | US$6,545,586 |
Single Season
Serena Williams Big Records
23-Grand Slams singles title named on Serena Williams
Serena Williams achieved 23 Grand Slam titles in the Open Era, which is the second most Grand Slam title after Margaret Court with 24-title. Serena records at number three for being nine times US Open winner from the time period of 1998-2014. She also held a six-times Wimbledon singles trophy from 2002-2016. The legendary Serena Williams has seven Australian Open titles and three French Open records.
Ultimately, she was the queen on a hard court with 13 championships on the hard court, therefore, her domain of dominance slightly excluded the clay court. She banged her 23rd major singles title in the 2017 Australian Open.
Check: Legend Serena Williams gets a standing ovation in her last match in Canada Open
The only player to hold a multiple Grand Slam trophy in all three formats
It is complete unbelieve that the American sensational, Serena Williams is proportionately perfect at the other two formats, Doubles and Mixed Doubles. She has paired with her elder sister, Venus Williams in all her Women's Doubles matches in any Grand Slam. Therefore, the Williams Sisters banged 14-Grand Slam titles in Women's Singles. Out of which, eight are Wimbledon and four at the Australian Open.
Even after, this much fame, Serena Williams reached one final of each in every Grand Slam tournament. However, interestingly Serena won two out of four finals and both in the same year (1998). In 1998 Wimbledon Mixed Doubles and US Open, she won both with the Belarusian, Max Mirnyi.
Serena Williams Career Stats
5th-women to win the most career titles of all time
Williams has 73 career titles including all Grand Slams and on-tour tournaments in her professional career.
Serena records to be the woman with the highest match played
The 40-year-old is the top player in the list of career matches played with 423 matches. In her 25-year-old career, Williams won 367 matches, the most matches amongst all women of all time. Therefore, she has an 86.8% win-loss record which stands her fourth in the list of match records.
Read more news about Serena Williams: Serena Williams announces retirement from Tennis after 22 years
Have a nice day ahead!