Sunil Chhetri is one of the prolific strikers in India. His lethality and agility inside the box are highly praised by many football superstars. He shares the second-highest active goal scorer position along with Lionel Messi. Chhetri has a goal tally of 80 as of now and with many more to come. Leading India from the front, he is the captain of the Indian National Football Team. Let's have a look at Sunil Chhetri Net Worth, Salary & Endorsements.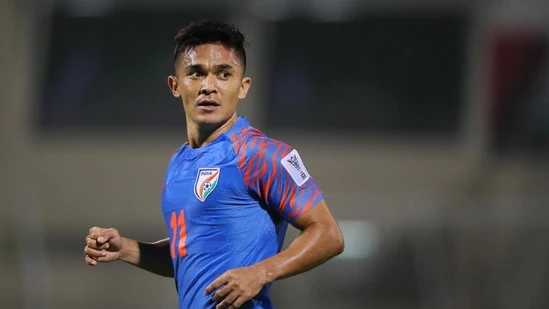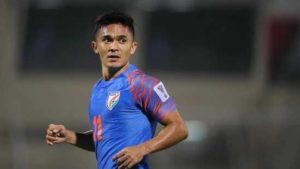 Chettri's Net Worth
He is one of the richest footballers in India. Sunil Chhetri plays for Bengaluru FC and his football career has been immensely successful in both country and club. Chhetri net worth is said to be around $1.1 million (₹8 Crore). Though he is not getting paid as high as compared to other cricketers in India. Still, this is an amazing feat to achieve after all his struggles.
Sunil Chhetri's Annual Salary
Sunil Chhetri plays for Bengaluru FC in ISL and he earns up to ₹8-10 lakh per match, which varies from match to match. According to this calculator, his earnings get up to ₹80 Lakh to ₹1 Crore per year.
Also Read: Top Five Richest Football Players in the world
Endorsements and Sponsorship 
In 2018, the Chettri was part of the KIA's official match ball carrier initiative for the 2018 FIFA world cup which was held in Russia.
Chettri has a partnership with Puma, which is one of the most famous German sports brands in the world. Puma became the official supplier of Chettri in December 2019, on a three-year contract.
He also has sponsorship from twelfth man, " a football-only", which is an online fantasy gaming platform from NXGn Sports interactive. He signed this deal in May 2020.
Chhetri's Property and Cars
Sunil Chhetri lives in the most amazing and Luxurious farmhouse along with his family which is situated in Bengaluru, Karnataka. Sunil Chhetri doesn't have a lot of cars in his possession, he only has one luxury car, an Audi A6. He owns some motorcycles and other branded cars like Kia Seltos, Mahindra Scorpio, Maruti, Suzuki SX4, Toyota Fortuner.
Sunil Chhetri Net Worth and Other Details
| | |
| --- | --- |
| Name | Sunil Chhetri |
| Age | 37 (3 August 1984) |
| Teams | India, India U-19, Mohun Bagan, JCT, East Bengal, Dempo, Kansas City, Chirag United, Sporting CP B, Churchill Brothers, Mumbai City, Bengaluru FC |
| Annual Income | INR 80 lakh + |
| Monthly Salary | INR 8-10 Lakh |
| ISL Salary | 3 Crore 14 Lakh (2021-22 Season) |
| Endorsements | Puma |
| Cars | Audi A6, Kia Seltos, Mahindra Scorpio, Maruti, Suzuki SX4, Toyota Fortuner |
| Residence | Bengaluru, Karnataka |
| Net Worth | INR 8 Crore |
Chhetri Footballing Career
Sunil Chhetri has a very successful professional career. He has achieved great heights in his career and he has also done some phenomenal work for his country. Sunil Chhetri made his debut in 2001, in City Football Club. In 2002, he was selected by Mohun Bagan and since then he has played for various clubs including the likes of East Bengal and Mumbai City. He has been to foreign clubs such as Kansas City and Sporting CP. Currently, Sunil Chhetri is playing with Bengaluru FC, in the Indian Super League.
Sunil Chhetri made his debut for the Indian under 20 team in 2004 and 2005, he became the permanent of the Indian football team. Sunil has scored a total of 80 goals for his country, which is quite a big achievement.
Achievement's with India's Senior Men's National Team –
AFC Challenge Cup – 2008
SAFF Championship – 2011, 2015, 2021
Nehru Cup – 2007, 2009, 2012
Intercontinental Cup – 2017, 2018
With Club Teams –
I-League – 2009–10 (Dempo)
I-League – 2012–13 (Churchill Brothers)
Indian Super League – 2018–19 (Bengaluru FC)
I-League – 2013–14, 2015–16 (Bengaluru FC)
Indian Federation Cup – 2014–15, 2016–17 (Bengaluru FC)
Super Cup – 2018 (Bengaluru FC)
Individual Achievements –
AIFF Player of the Year: 2007, 2011, 2013, 2014, 2017, 2018–19
AFC Asian Icon – 3 August 2018
Arjuna Award – 2011
Padma Shri – 2019
AFC Cup All-time XI (The Strikers) – Inductee (2021)
Also Read: MS Dhoni Net Worth, Endorsements and Sponsorships in 2021