The three-day-long Apex Legends Mobile Invitational came to an end on August 28, with team Viper coming out Victorious. Team Viper dominated the whole contest from start to end. They scored 155 points in 15 matches. Moreover, Team Viper was awarded ₹1 lakh in prize money. The content was hosted by S8UL Esports co-owner Animesh Thug. Besides, the contest was held from 26 to 28 August. A total of 15 content creator teams from S8UL were invited to compete in Thug Invitational for the prize pool of ₹2.5 lakhs.
Apex Legends Mobile Thug Invitational overall standings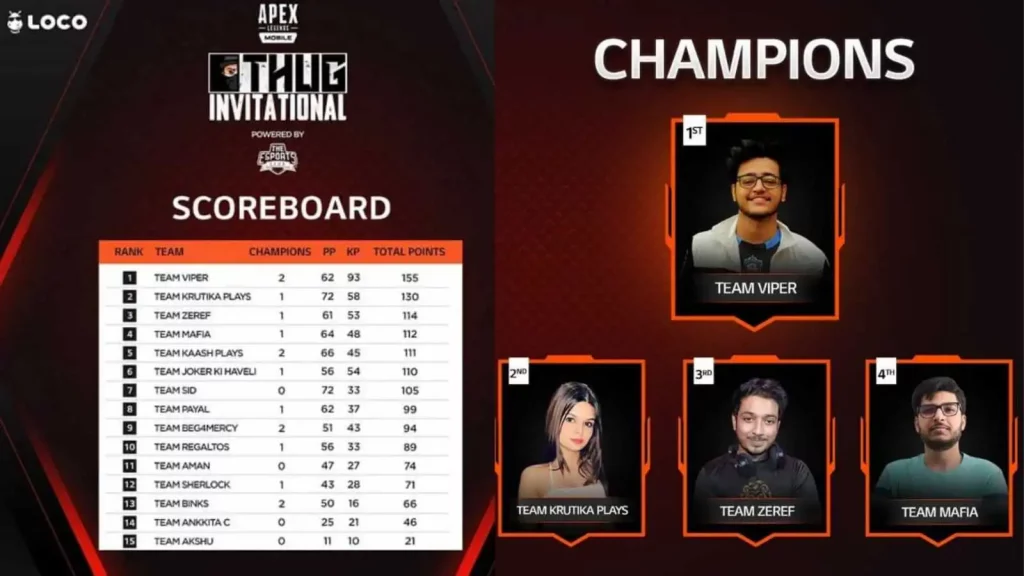 Team Viper – 155 points
Team Krutika Plays – 130 points
Team Zeref – 114 points
Team Mafia – 112 points
Team Kaash Plays – 111 points
Team Jokar Ki Haveli – 110 points
Team Sid – 105 points
Team Payal – 99 points
Team Beg4Mercy – 94 points
Team Regaltos – 89 points
Team Aman – 74 points
Team Sherlock – 71 points
Team Binks – 66 points
Team Ankkita C – 46 points
Team Akshu – 21 points
Apart from team Viper, team Krutika plays and Team Zeref also plays extraordinarily well and eventually secured second and third positions in the contest. Team Krutika Plays didn't get a good start on the first day but they put on some great performances on the second and the final day and secured the second spot on the overall leaderboard.
Also Read: Who is Wraith's Voice Actor in Apex Legends?
Team Zeref also had a bad start on the first day and second days but they put on an incredible performance on the third day and secured the third spot on the overall leaderboard.
Also Read: How to use Ordnances in Apex Legends
However, it was the first ever Apex Legends Mobile event played by some of the popular Indian content creators. So, Fans can expect to see many more contests like these in the future where their favorite content creators and gamers will perform again.
Also Read: How to play Apex Legends Mobile Game on PC in 2022
For More news related to the games and esports, keep checking The SportsLite