Gustavo Badell aka "the Freakin' 'Rican" was born on November 3, 1972, and died on July 13, 2023, at the age of 50. He was an International Federation of BodyBuilders professional bodybuilder. He has various accomplishments in the field of bodybuilding. Gustavo Badell began bodybuilding at a young age and quickly developed an ideal physique for competition. At 19, he entered the Junior Caribbean Bodybuilding Championships in 1991. After winning the Caribbean Championships in 1997, he obtained his pro card and competed in the IFBB Amateur World Championships. From there, Badell continued to compete in numerous other bodybuilding competitions.
Gustavo Badell had a successful career in competitive bodybuilding, achieving notable accomplishments such as finishing 14th in the International Federation of Bodybuilders Night of Champions and winning the Ironman Pro Invitational in 2005. He continued his winning streak by emerging as the champion in the San Francisco Pro Invitational the following year. In 2009, he won the Atlantic City Pro competition.
Gustavo also had the opportunity to compete against renowned bodybuilders Ronnie Coleman and Jay Cutler in the Challenger round of Mr. Olympia in 2005. Although he eventually retired from competitive bodybuilding, Gustavo remained dedicated to maintaining his fitness. Additionally, he had a presence on Instagram with approximately 37,000 followers and a YouTube channel with 113 subscribers, although the channel had been inactive for five years. Also read: Jo Lindner Cause of Death: What disease Lindner had?
Gustavo Badell Cause of death and tributes
Renowed bodybuilder Gustavo Badell cause of his death is currently unknown, but it is known that he had been dealing with kidney problems.
Edward Abbew, the owner and CEO of Eddie Abbew's Olympian Gym, shared two pictures and reminisced about a weekend he spent with Gustavo in Florence, Italy, in 2007. They had a great time together, conducting a seminar and training in front of a crowd. Edward was impressed by Gustavo's strength and admitted that he was outperformed. Edward expressed his condolences to Gustavo's family and friends, noting that Gustavo was ten years younger than him. The untimely loss of a young person is always a sad event.
Muscle Insider paid encomium to the Popular Bodybuilder by sharing a heartache post.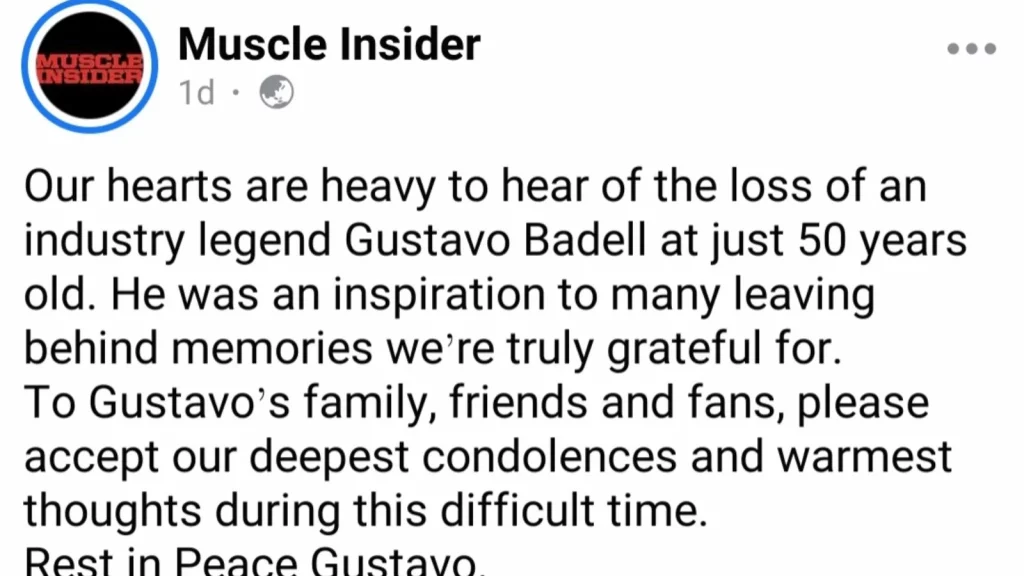 Badell has four children, including Gustavo Andres, Liz Valeria, Barbie Ann, Nicole Marie, Michael Gustavo, Christian Carlos, and Sabella, are left behind after his passing. The bodybuilding community mourns the loss of one of the great personality.
Thank you for reading it. Leave us a comment if you liked it.
Do follow us on: Google News | Facebook | Instagram | Twitter | Youtube | LinkedIn
Have a good day ahead 🙂