Dabang Delhi KC won a thriller against the three-times champions Patna Pirates to go to the top of the points table. Dabang Delhi defeated Patna Pirates 32-29. It was a nerve-cracking encounter between the top two sides. Delhi in the absence of their star raider Naveen performed collectively and got on top. The Beast Sandeep Narwal finally showed his potential against its old team Patna Pirates. Lets us look at the post-match review of Dabang Delhi VS Patna Pirates.
Dabang Delhi VS Patna Pirates: First Half
The match started with Patna Pirates' Sachin grabbing the first point of the game. Soon Prashant Rai secured two raid points for Patna Pirates to give them a lead of 3-0. But Dabang Delhi's defence soon fought back and reduced the lead to just one point 4-3 in favor of Patna Pirates. Then came the player of the match Sandeep Narwal to grab two raid points and reduce Patna Pirates to just 2 defenders. In the 11th minute of the game, Dabang Delhi insisted first all-out on Pirates. For Delhi, Sandeep Narwal continued to display his special skills in defence as well as raid. Till half time, the scores were 19-10 in favor of Dabang Delhi. It was a stellar performance by Dabang Delhi.
Dabang Delhi VS Patna Pirates: Second Half
Patna Pirates started the second half with a bang. Guman Singh got two raid points and ensured the comeback of the Pirates. Even the defence started firing suddenly. Soon the Pirates inflicted an all-out on Dabang Delhi. The lead reduced to 22-21. But Sandeep Narwal had some other plans. He kept securing points for Dabang Delhi. And a super raid by Vijay in the 36th minute of the game put Delhi on the top. But the game went on to the last minute with Manjeet giving a final blow to Patna.
Check Out – Breaking! : KL Rahul, Marcus Stoinis, Ravi Bishnoi Sold For Lucknow IPL Team For 30 Crores; Rahul To Lead
Top Performers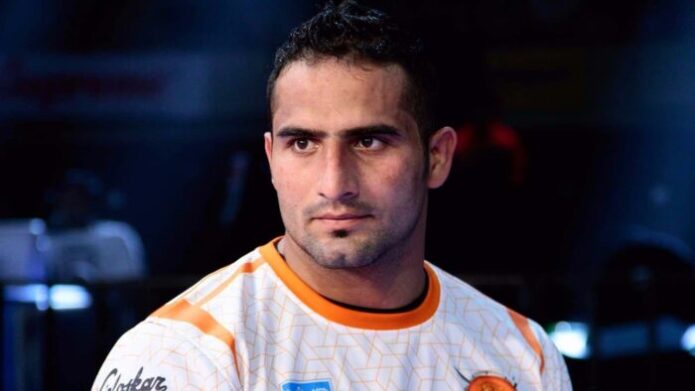 Dabang Delhi:
Best Raider – Vijay ( 9 points )
Best Defender – Manjeet Chillar (2 points)
Patan Pirates:
Best Raider – Prashant Kumar Rai ( 6 points )
Best Defenders – Mohammadreza Chinayeh ( 3 points )