What is Yo-Yo Test?
Yo-Yo Test is a test that tests a player's overall fitness and aerobic capacity. It is also known as the Intermittent Recovery Test. Danish soccer physiologist Dr. Jens Bangsbo had introduced it in the 1990s especially for footballers, but over the years, it has now been used in many sports.
Requirements for this test:
The test seems to be quite a simple one but it is not. It requires a 25-meter flat space which should be dry and not slippery. There are 3 marks; a starting point; 5-meter mark and a 20-meter mark.
Procedure for Yo-Yo Test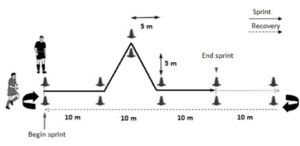 [1] The runner starts running towards the 25-meter mark.
[2] He should reach the 25-meter mark before or at the beep.
[3] At or before the same beep, the runner should start to run towards the 5-meter mark.
[4] He should reach the 5-meter mark before or at the next beep.
[5] This is followed by a rest period of 10 seconds when the runner can amble between the starting point and the 5-meter mark to get his breath back.
For each next run, the time between the two beeps decreases gradually.
The two consecutive unsuccessful attempts eliminate the runner from the test.
There are four types of Yo-Yo tests namely Recovery level 1 and 2; Endurance level 1 and 2. For each type of test, there are slight deviations from the rules.
Yo-Yo for the Indian cricket team
Former Indian cricket team's strength and conditioning coach Shankar Basu had introduced the Yo-Yo test to the national side ahead of India's tour of Sri Lanka in 2017. Since then for a few years, there had been some controversies regarding the Test.
The rule in the Indian cricket team is that a player has to first pass the Yo-Yo test, if he passes, he will be selected in the squad. But if he fails, he gets dropped from the squad, despite the fact how important the player is for the team. Yuvraj Singh, Suresh Raina, Ambati Rayudu, Mohammed Shami, Sanju Samson, and recently Varun Chakravarthy have failed to clear the Yo-Yo test.
There were some opinions that the test doesn't consider the cricketing abilities, which is important if you are playing cricket. There was another opinion that it tests only one aspect of fitness, while in cricket there are different fitness aspects which every player should take into consideration.
Conclusion
In the recent past, the debate about cricketing fitness and the Yo-Yo test have faded away. Indian cricket fans, players and experts have shown the thumbs up to the test.
Also Read: Top Five Highest Opening Partnerships in T20 World Cup