Chris Beard is an American basketball coach who coaches the men's basketball team at the University of Texas at Austin. He was named the AP National Coach of the Year in 2019 after he led the Texas Tech Red Raiders to the 2019 NCAA Division 1 Men's Basketball Championship Game against eventual champions Virginia Cavaliers. Prior to Texas, he coached at Texas Tech, Little Rock, Angelo State, and McMurry.
ALSO READ | Wolves Forward Taurean Prince arrested at Miami Airport due on a fugitive warrant: Reports
Chris Beard Age
Beard celebrated his 49th birthday on Friday, February 18, 2022. He was born on 18 February 1973.
Chris Beard Wiki
Christopher Michael Beard was born on February 18, 1973, in Marietta, Georgia, United States. He graduated from McCullough High School in The Woodlands, Texas. In 1995, he received his Bachelor of Science degree in kinesiology and later completed his Master of Education from Abilene Christian University.
Beard began his career as an assistant coach at North Texas from 1997-1999. After coaching Fort Scott Community College, and Seminole State College, he joined Texas Tech and worked under Bob Knight for 10 years.
Beard was named the Sun Belt Coach of the Year after he joined the Little Rocks (in 2015) and coached them to Sun Belt tournament titles. He took the Texas Tech job in 2016 and after the team's several successes, Beard won the Big 12 Co-Coach of the Year in 2018.
That same year, Texas Tech won its first-ever Elite Eight berth in program history. He also signed a six-year extension worth more than $ 4.5 million a season, which made him the country's third-highest-paid college basketball coach. He joined the University of Texas as the team's head coach in 2021.
ALSO READ | Who is Viktor Bout, released from US Prison in exchange of Britteny Griner with Russia
Chris Beard News
On December 12, 2022, Beard was arrested by Austin police after being accused of domestic violence against a family member. A woman told the police that he strangled and bit her. The charge can lead to a punishment of two or 10 years in prison.
According to the Austin American-Statesman, the woman told the police that she is his fiancée  and that they have been in a relationship for six years. She then said she broke his glass during an argument after which Beard "just snapped on me and became super violent."
"He choked me, bit me, bruises all over my leg, throwing me around and going nuts." Police say she had a bite mark on her right arm. But Beard told the police he had the audio recordings of the incident that can prove he wasn't the primary aggressor but he refused to share them with the police.
But Beard's attorney, Perry Minton told the Austin American-Statesman that Beard is "100% innocent of these charges."
ALSO READ | Shocking! Jalen Hill, Former UCLA Bruin men's basketball player dies at 22
Chris Beard Wife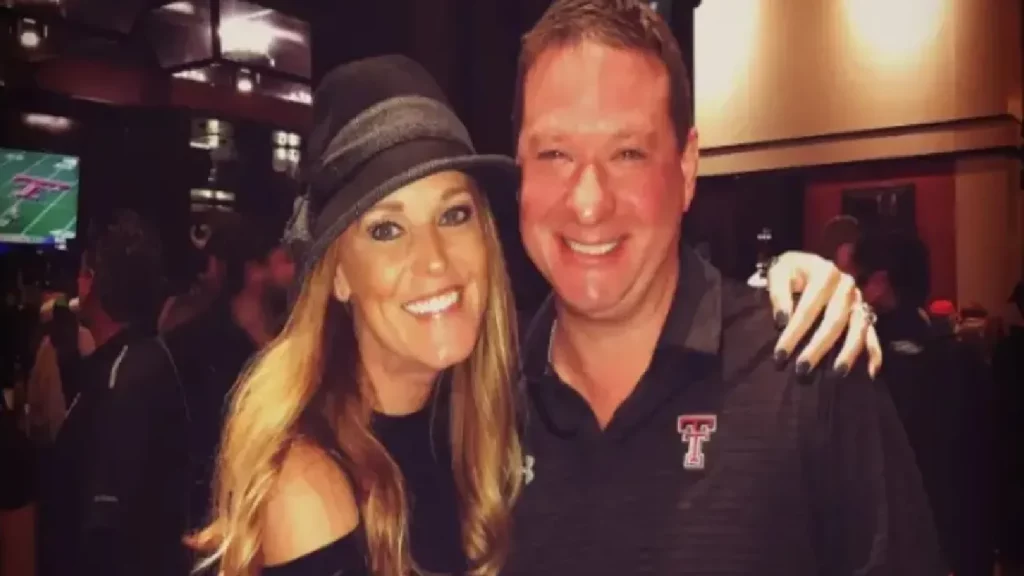 As per several reports, Beard has recently divorced his wife Leslie Beard. Leslie is an author and journalist with a net worth estimated to be around five million dollars. Chris and Leslie had been married since 1996 till their split. They had three daughters- Avery, Ella, and Margo.
After his divorce, he confirmed his new girlfriend Randi Trew in 2019. She coached the women's volleyball team at Texas Tech and now coaches high school.
Chris Beard Instagram
Beard is not on the Meta-owned platform but he has a Twitter account- @ChrisBeardUT.
Chris Beard Salary
According to Wikipedia, Beard earns an annual salary of $5.2 million.
Thank you for reading. Leave us a comment if you liked it.
Do follow us on: Facebook | Instagram | Twitter | Youtube | LinkedIn
Have a good day ahead 🙂