Manchester United has booked their place in the the FA Cup final after beating Brighton, 120 minutes weren't enough for both the teams to break the deadlock, a Solly March missed penalty in the shootout helped The Red Devils to win it 6-7 on penalties.
A Manchester United win means we are to witness a Manchester Derby as Pep Guardiola's men has already qualified for the final as they beat Sheffield United 3-0 last evening. Both the neighbours will engage themselves in the ultimate showdown on 3rd June at Wembley. This will be the first Manchester Derby in a FA Cup final.
Manchester United were dejected after their Europa League exit at Sevilla last week and Erik Ten Hag needed the win to gather his players back, but The Seagulls went toe to toe with The Red Devils and were intriguing to watch. Roberto De Zerbi started Enciso with Welbeck, Mac Allister pushed from Central Midfield, Pascal Gross and Solly March made runs from both the flanks.
Manchester United started with a 4-2-3-1 formation, Casemiro and Eriksen formed the pivot, Martial was the lone striker pushing upfront. In the absence of their two main defenders Varane and Martinez the back four got their job done denying the fast fluid attack from Brighton, AWB in the right back position was solid in 1v1 situations, he kept Mitoma at bay on the right. Also read:Manchester City 3-0 Sheffield United: Post Match Reactions
Roberto De Zerbi's men started well and dominated the most part of the game yet his team failed to find the net in 120 minutes, as the statistics suggest Brighton dominated the possession with 61% and outpassed United with 643 passes among themselves.
After a horror show against Sevilla, David de Gea came up with some stunning saves denying Brighton to go ahead, he made a fingertip save from a Mac Allister free kick early in the game. The Seagulls would have gone ahead with Dany Welbeck's shot in 57th minute, United will be indebted to David de Gea as he came up with a clutch save just before the Welbeck moment to stop Julio Enciso's attempt on goal.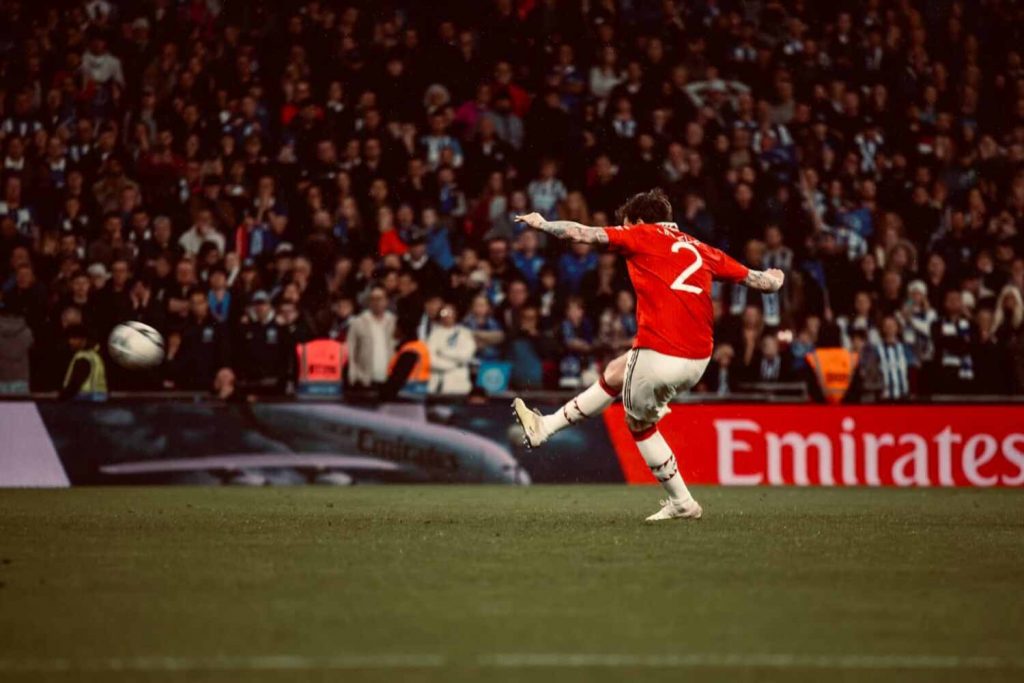 On the other hand Sancho attempted a curler which was just over the bar and in the extra time Marcus Rashford's shot was deflected by a heavy touch from Mitoma which caused no danger to Roberto Sanchez the Brighton goalkeeper.
A goalless draw after 120 minutes pushed the game to the penalties, 14 spot kicks were involved in the tie-breaker. Victor Lindelof scored the winning penalty after Solly March missed for Brighton. Also read:Manchester City and Their Triumph Of The Treble, Can They Do It?
Manchester United is having good season under Erik Ten Hag and will aim for a domestic double after bagging the Carabao Cup in February, they will now shift their focus to Premier League as they are play away from home against their top-four rivals Tottenham on friday 12:45 AM IST.
Media reactions:
Sources Sky Sports-
Brighton head coach Roberto De Zerbi:
"We deserved to win because we played better and we had more chances to score. We suffered in the middle of the second half but for the other part of the game we commanded the play, we played in the other half of the pitch."
Asked what he said to Solly March, who missed in the shootout, De Zerbi said: "Not too many words. I told him I was a player and made a lot of mistakes in penalties and it isn't a problem.
"He was one of the best players in terms of quality of performance on the pitch. I'm proud of him, especially [on Sunday]."
Man Utd head coach Erik Ten Hag:
"It was the worst game of the season in Sevilla. You can't change it anymore but take the lessons for the future.
"What we've proved is we can deal with setbacks and bounce back between games, but now what we have to improve is bouncing back in a game, in difficult situations, in away stadiums, we have to show personality, carry on and stick to the plan.
"Even if we played a bad game, there was opportunities on Thursday night to bounce back in that game and get back into it. If you can fight three days after a defeat, you can also do that in a game. It's just controlling your emotions, sticking together and turning around the game.
"We are physically and mentally strong. We showed the character and personality to do that. I can tell you it's not so easy but we did it. We were determined to win this game."
Do follow us on: Google News | Facebook | Instagram | Twitter | Youtube | LinkedIn
Have a good day ahead.