A 19-point masterclass from Maninder Singh wasn't enough for the Bengal Warriors, as they succumbed to a 40-36 lead against the U.P. Yoddha. Surender Gill and Pardeep Narwal combined for 18 raid points, while Sumit was the game's best defender with four tackle points. This win was U.P.'s third on the trot, and they now sit just five points off the top of the table. Let's go through the post-match review of Bengal Warriors VS UP Yodha for more details.
Bengal Warriors VS UP Yodha: First Half
The Warriors raced to a 4-1 lead, courtesy of two points from Sukesh Hegde and one from Maninder and Ran Singh. U.P. responded with a 4-1 run of their own, with the defence adding three tackle points to their team's total and Surender Gill opening his account for the night. Pardeep and Ashu added three points to U.P.'s total as a seven-point swing saw them take a three-point lead. Pardeep continued his solid work and soon reduced the Warriors to a solitary man on the mat. But that man was Maninder, and the skipper came to his team's rescue with a Super Raid, which kept the All Out at bay and revived two defenders.
But the Warriors' resistance didn't last long, as Surender and Pardeep combined to reduce the Warriors to a solitary man on the mat again. U.P.'s defence allowed Sukesh to pick up the bonus before pinning him down to inflict the game's first All Out and reclaim the lead. Sumit and Nitesh Kumar added a tackle point to their team's tally as U.P.'s lead ballooned to four. But Maninder ensured his team finished the half stronger, as he helped the Warriors embark on a 3-0 and ensure they go into the break trailing by a solitary point.
Bengal Warriors VS UP Yodha: Second Half
The two teams traded blows in the opening few minutes of the second half, as U.P. continued to lead by a point. Shrikant Jadhav's two-point raid followed by Sumit's sensational Ankle Hold on Maninder left the Warriors with just three players on the mat. Gill's spectacular Scorpion Kick took care of one defender, and in U.P. Yoddha's subsequent raid, Pardeep tagged both defenders en route to the midline to help his side inflict an All Out and take a seven-point lead.   
Post the All Out, Maninder picked up points at will, but the Warriors' defence couldn't contain Gill or Pardeep as U.P. continued to lead by seven. Despite Bengal's lackluster defensive effort, Maninder continued to add to his tally. He escaped an Ankle Hold attempt from Sumit, then picked up a bonus before adding two more touchpoints to his team's total to cut U.P.'s lead to just three points. With U.P. down to three players, Maninder went in, hoping to add more points to his tally and help the Warriors get closer to inflicting an All Out.
But the raider's hot streak came to an end, as Gaurav Kumar came off the bench to Super Tackle the Warriors skipper to end their hopes of a victory. Nabibakhsh and a self-out in the game's final raid added two more points to Bengal's tally, but it was U.P. Yoddha who took home five crucial points.
CHECK OUT – 10 Amazing Facts About The Free Fire That Nobody Knows
Top Performers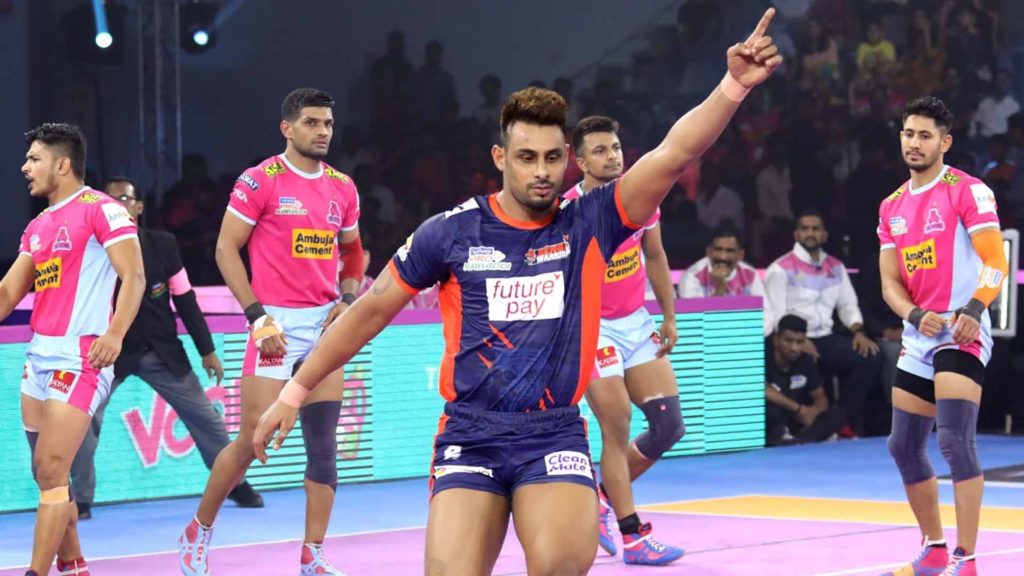 U.P. Yoddha
Best Raider – Pardeep Narwal (9 Raid Points)
Best Defender – Sumit (4 Tackle Points)
Bengal Warriors
Best Raider – Maninder Singh (19 Raid Points)
Best Defender – Abozar Mighani (2 Tackle Points)