Career-best 21 raid points performance by Surender Gill led UP Yodha to win against Puneri Paltan in a high scoring encounter. UP Yodha defeated Puneri Paltan by the score of 50-40. For UP Yodha, Dubki King Pradeep Narwal too secured super 10. Puneri Paltan's young raider Aslam Inamdar and Mohit Goyat too secured super 10s. But everything seemed like an ant in front of 21 raid points of Surender Gill. With this win, U.P. Yoddha extended their unbeaten run to four games and climbed to fourth on the points table. Lets us look at the post-match review of Puneri Paltan VS UP Yodha.
Puneri Paltan VS UP Yodha: First Half
Pardeep gave U.P. a dream start, picking up three touchpoints in his first raid and helping his side race to a 3-0 lead. The Paltan fought back and embarked on a 5-2 run, with their defence and raiders working in tandem to level the score. Mohit Goyat and Aslam Inamdar proved to be too hot to handle for U.P. Yoddha's defence, who were reduced to just two players on the mat. Another touchpoints for the Paltan left U.P. Yoddha with just Pardeep on the mat. The raider almost managed to pick up a Super Raid but was Dashed out by Abinesh Nadarajan just in time which helped the Paltan inflict the game's first All Out to take a four-point lead.
Inamdar and Mohit continued their stellar work and helped the Paltan outscore U.P. 4-3 in a final couple of minutes of the half to go into the break with the scores level at 20-20.
Puneri Paltan VS UP Yodha: Second Half
Early in the second half, Gill changed the course of the game with a sensational raid. The Paltan defence closed in on the young raider, but he managed to escape their clutches with a perfect Dubki and tagged four defenders on his way to the midline to leave Pune with just a solitary man on the mat.
Inamdar then flexed his incredible skill set, first with a pursuit raid and then a Dubki, but Gill from the other end continued to match him point-for-point to ensure U.P. stayed comfortably ahead on the scoreboard. A quick hand touch by Inamdar was followed by another two-point raid by Gill, which brought up 50 on the scoreboard for U.P.
The Paltan picked up the final two points of the game, but it was too little too late.
Check Out – Lionel Messi Girlfriend List: How Many Girls Did Argentine Legend Date?
Puneri Paltan VS UP Yodha: Top Performers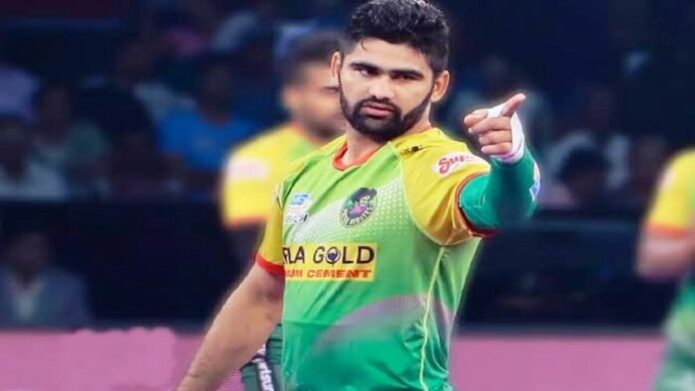 U.P. Yoddha
Best Raider – Surender Gill (21 Raid Points)
Best Defender – Nitesh Kumar (4 Tackle Points)
Puneri Paltan
Best Raider – Aslam Inamdar (16 Raid Points)
Best Defender – Sanket Sawant (2 Tackle Points)